By CMSgt (Ret) Dana R. Rogers
Living and growing up in the frigid climate of the northern Great Plains, private land Whitetail management was something that lagged far behind most of the rest of the Whitetails range.  I was blessed to grow up on a farm/ranch that held deer and the opportunity to hunt but the hunting style and ethics of the majority in our area left much to be desired back in the 1980's.  Fast forward to 2005 and my military duties finally brought me back close to home.  I returned to the Dakotas, and after much negotiation and a little arm twisting, I was able to finally convince my father to lease the hunting rights to me and let me plant food plots and 'manage' our local wildlife.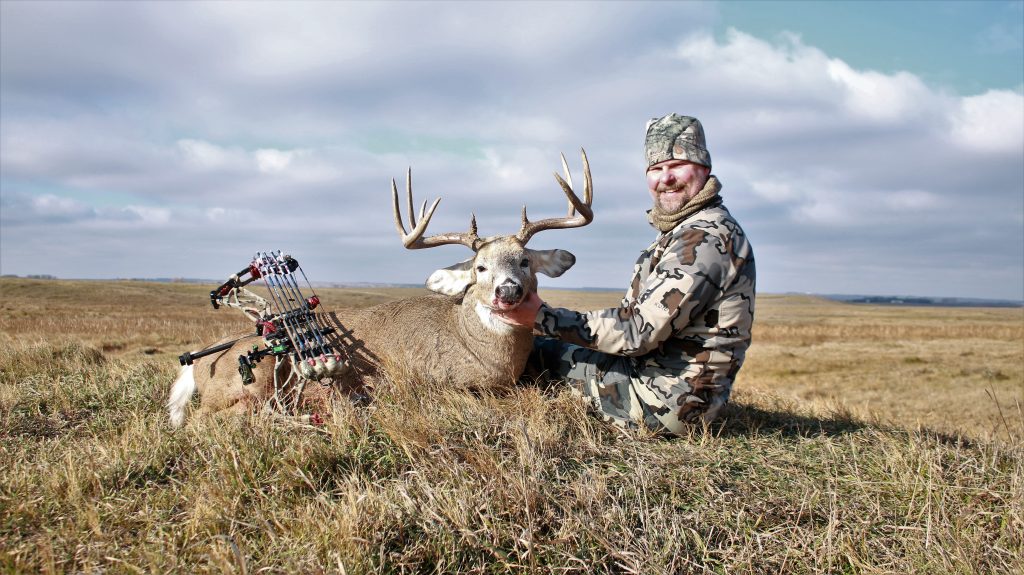 The past 15 years of management have taught me several hard-won lessons. Living in 'Big Ag' country where corn, beans, wheat and alfalfa is readily available during ½ of the year can be a different type of challenge. Particularly when you consider that our Great Plains is truly cattle country with few trees or much cover of any kind, by the standards of most Whitetail hunters in other locales.
In the majority of areas I manage, by far the lowest holes in the bucket are cover and late season food sources. Deer can almost be considered migratory, due to the distances they often travel during the year from winter ranges to summer ranges. Taking our unique conditions of little to no trees, often extreme cold and wind during the late winter. Sparse food sources during winter and early spring and I have had to tailor much of my efforts to achieve the best results.
As with most serious whitetail habitat managers, I've tried many different things and strived to learn as much as I possibly can from those with more experience over the years. Fortunately for me, I had the Lords blessing of growing up on a farm/ranch. Thus, I had available land and a good assortment of equipment to start out with in my initial learning years. Below are my current go to choices under our conditions.
Variety of planting and offering preferred food sources throughout our hunting season has proven extremely important.  I always do test plots of various offerings to see what works best and when.  Over the past 10 years I've planted Ag soybeans, forage soybeans as well as Real World Soybeans.  In our area of the country, deer have a wide variety of summer and early fall food choices.  Ag and forage soybeans grow beautifully and work fine for summer food sources and even very early season hunting plots.  But when the beans turn and the cold north wind and snow start coming through in November, I've found you just can't beat Real World's Gen 2 and Northern blend.  During the past few years I've planted up to 10 acres of those varieties and we always have beans left at the beginning of spring still in their pods.  In fact, this past year we had a few days with sustained 60 mph winds and they still held up.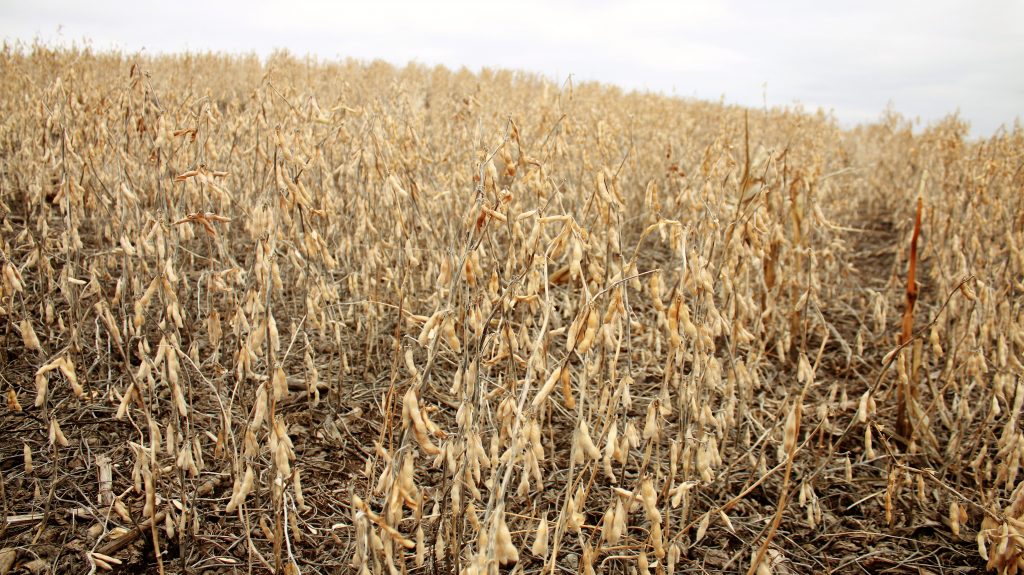 Soybeans are versatile! They provide a high quality food source for the majority of the year. Deer will start browsing on soybeans as soon as they germinate and continue feeding on them through the entire growing season, save for a short period when they are yellowing and drying here. Once the soybean plants have matured, deer will feed off the pods.
Every season I still "Dare to Compare" and each season I consistently see the same results.  Ag and forage soybeans do admirably in the late spring and summer, but during that time of year the deer in our area are dispersed all across the Ag landscape.  When the hunting season comes in here, and more strikingly during the late winter, nothing compares to the shatter resistance and drawing power of the Real World blends. This has been proven to me in multiple side-by-side tests and my trail cameras and visual sightings bare that out.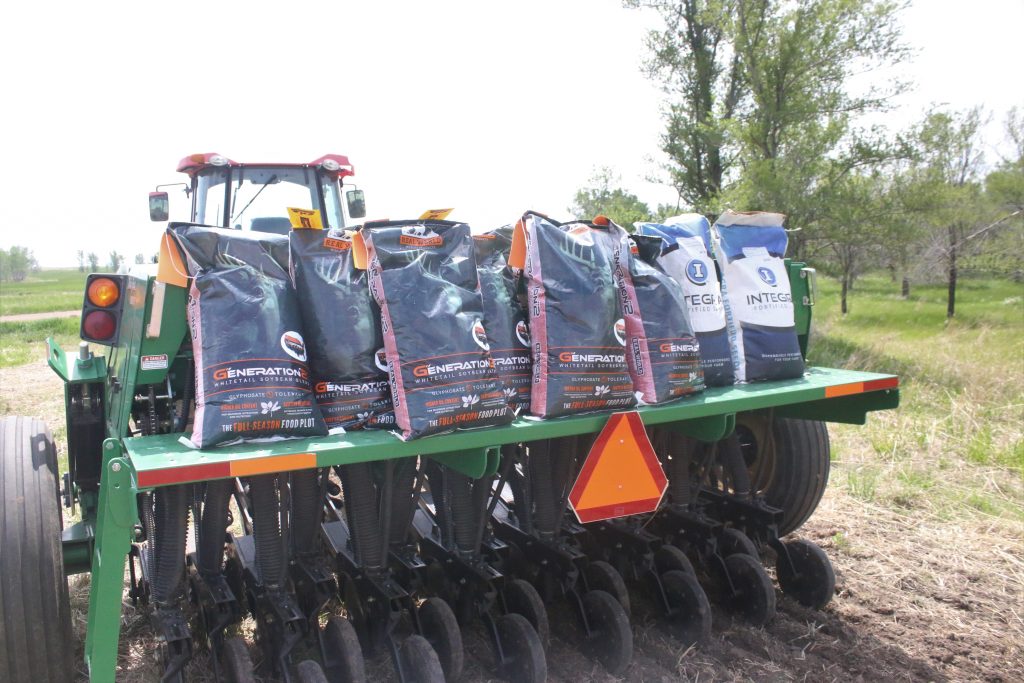 I also plant a few acres of corn and that is definitely a benefit here, in multiple ways.  In the Dakotas, where cover is so lacking, standing cornfields not only provide great carbohydrates loaded with fat, they also provide standing cover and even a bedding source in certain conditions.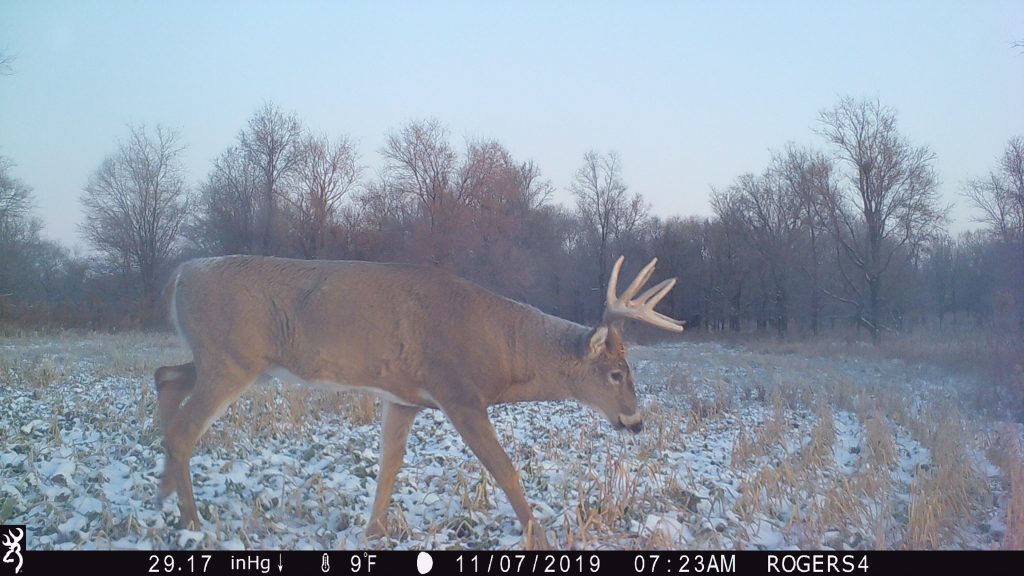 Since we were so lacking in bedding cover, and more importantly, thermal bedding and security cover, I looked for something to quickly help overcome this deficit. I do plant a few different varieties of trees and shrubs and I always will. But my tree plantings aren't any different than anyone else. It will take a full generation before they are really effective and helpful. I've put in cedar, oak, Russian olive, plum, pear and a few other varieties, but what has really worked to quickly establish countermeasures to my deficits is putting in several acres of warm season grasses.
I settled on the Real-World Bedding in a Bag mix.  A special blend containing Indian Grass, Big Bluestem and Switchgrass.  This blend has been an absolute boon for the wildlife here.  We are known for our pheasant hunting and the 20 acres of this mix that I've put in divided into 3 plots have certainly helped expand our local population.  Our soils aren't nearly as good as those found further east but we were still able to get strong stands 5'-7' tall that stands up well to the elements. If you want to create bedding cover in a hurry on your property, Real Worlds "Bedding-In-A-Bag" is a fantastic choice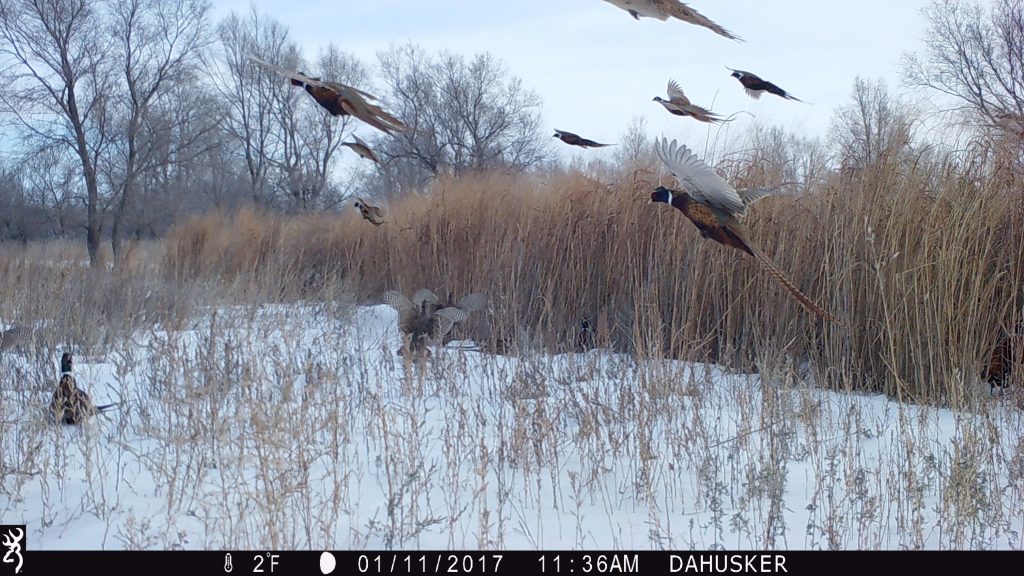 Establishing the warm season native grasses requires some extra effort compared to other crops. Fortunately, I had access to a Great Plains no till drill, a perfect implement for the task. In this part of the country, early to mid-May is typically a good time to seed these grasses, when the soil temps' approach 60 degrees. I established our Bedding stands after first planting plots in old pasture sod for a few years to break down the area. Our best and cleanest stands were established after Gen 2 RR soybeans were used to beat back much of the weed seed bank. Using a good weed control strategy prior to planting like glyphosate or a mix with Plateau will really help your success.
I also use controlled burns every third or 4th year in the early spring before green up. Fire not only stimulates these grasses but also sets back weed competition. With regular burnings these grass stands can last for decades. I also highly recommend planting firebreaks around the edge of fields.  Real Worlds Clover & Chicory mix makes a good firebreak and provides a place to feed just outside of the bedding cover.  I do keep a few hidey hole plots in the clover/chicory blend that I primarily plant in or around staging areas to get pictures on and to help with nutrition during our lean times of late spring.  It's not really a staple for me up here though with our early frost dates and abundance of Ag options for the whitetails.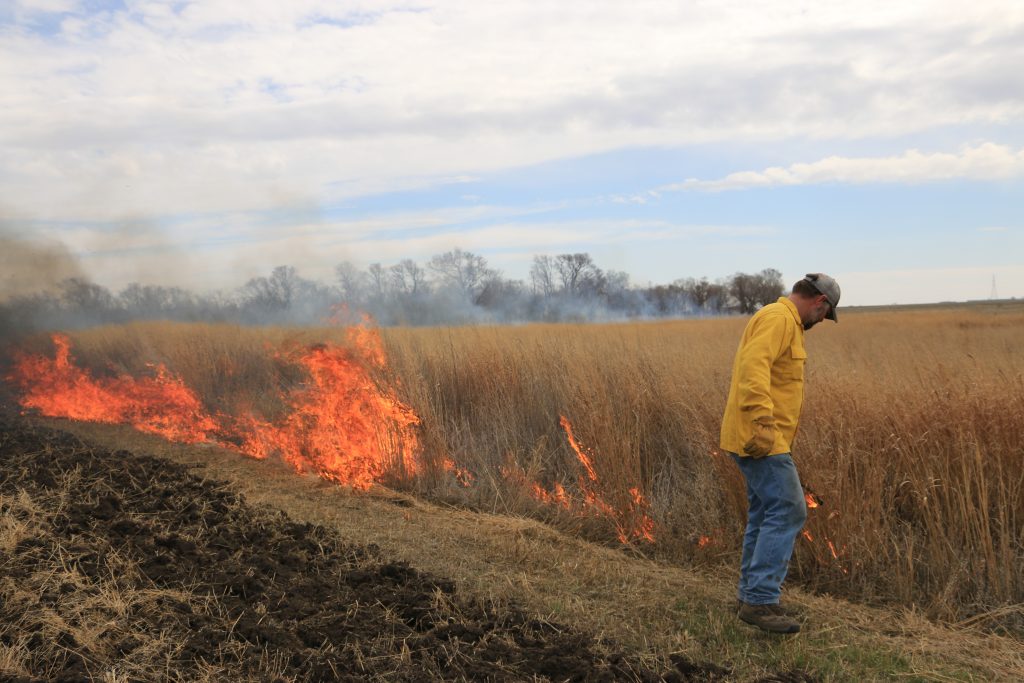 In addition to relying primarily on the Gen 2 soybeans, corn and a small amount of the clover and chicory blend, I annually plant several acres of green forage grains and brassicas for additional late season drawing power.
About the 3rd week of July here I'll start my fall plantings.  I like a good mix of brassicas and radishes.  Often, I'll top seed my soybean plots with Plot Topper.  Toward the end of August or the first few days of September here I drill in small grains and mixes like Deadly Dozen, Forage Oats and Harvest Salad.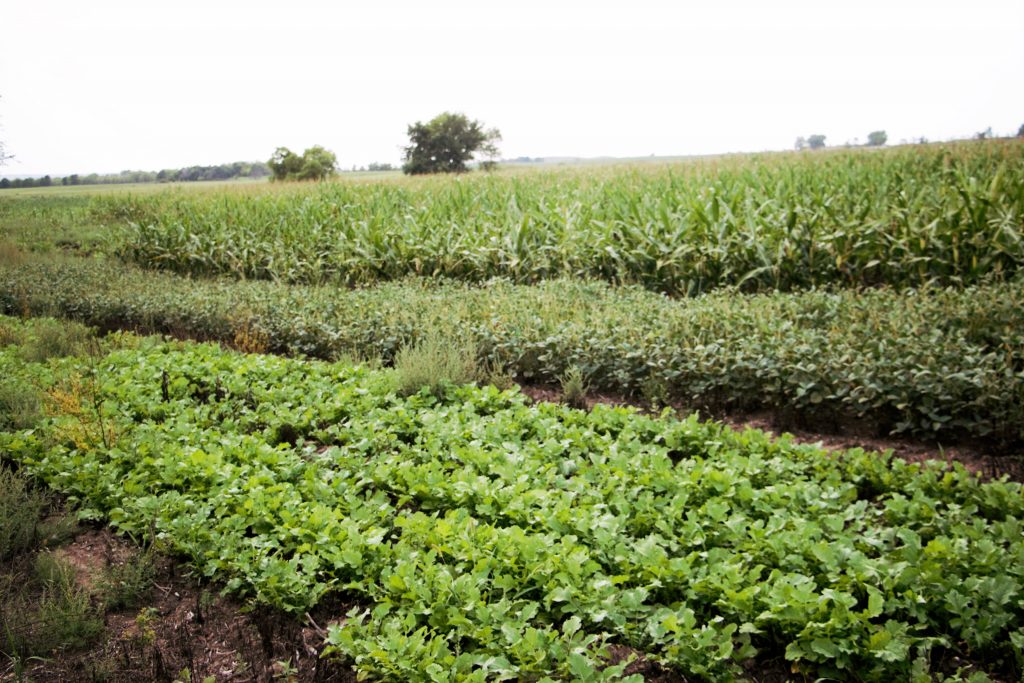 These late plantings provide some delicious green growth that Deer flock to early season and they'll come back to it after our snow melts off and new green growth shoots up well into the following spring.
My home farm is a bit unique compared to what most readers likely experience. I'm afforded a few acres each summer to 'play with' due to our great plains' wetland environment. Those late brassica, radish and small grain blends always have a place once some of the waters recede. I've also recently started testing the Real-World Upland Game Blend and the pheasants, dove and cottontails really love the varieties in these offerings. This past spring, I got hold of a small amount of the Giant Miscanthus and I'm excited to see how that can help me create screens to access and exit a few of my stands and blinds in this wide-open terrain.
By running trail cameras most of the year for the past 15 seasons, I've been able to learn a great deal about our seasonal pattern shifts. Under our extreme weather shifts, as well as agricultural and cattle operations, it's not uncommon at all to have the majority of the local deer almost totally vacate fall and winter ranges from April to late September. These unique conditions can make it pretty difficult to keep tabs on specific bucks.
But perhaps our most insidious opponent hasn't been poachers or trespassers, though we've battled a few of those. Like many of you, we had an absolutely devastating outbreak of EHD in 2012, then again in 2016. Nothing has frustrated me more during the past decade and a half as a wildlife and habitat manager.
During the past few years, I've started using Maximizer mineral and Maximizer Pro Formula and Complete feed in strategic boundary areas close to range shifts to use trail cameras to monitor fringe areas where bachelor groups often overlap with areas, I have access to hunt or own.  Though, I don't have any unbiased empirical evidence to definitively point to, I can tell you that we haven't found a single EHD casualty on our home farms during the past 2 years since I started this regiment.  Obviously, I'm going to continue to test the products and see.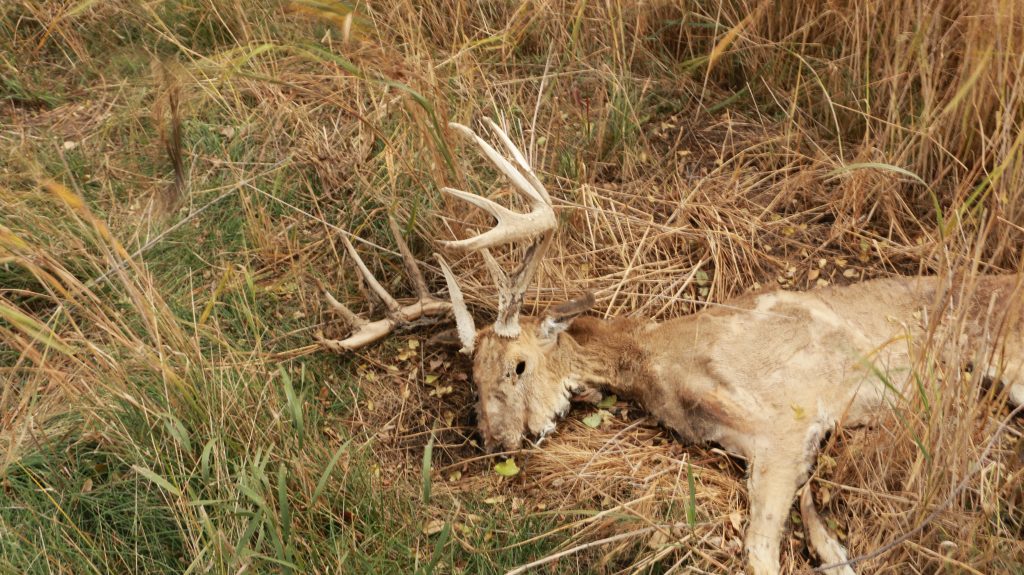 For those that need hard numbers or care about inches, I can show you that in the past 15 years of intensive management, we've gone from just hoping to see a 135" 3-year-old, to having several fully mature bucks ranging from 145 – 170". Our wintering herd numbers have also increased from as few as 20 to an average of over 120 over the same time frame.
The extreme winter temperatures, high winds, snow covered fields and frequent summer droughts which can bring yet another round of EHD makes the Dakotas a tough and unique place to manage for upper age class whitetails. With years of trial and error and God's blessings, my family and I have been able to turn our pastures and open fields into some pretty good whitetail properties with the help of Real-World Wildlife Products.