Before we let you read Richard's story, we will tell you that on September 14, 2017 a very excited Richard Knippenberg contacted us with this picture and message: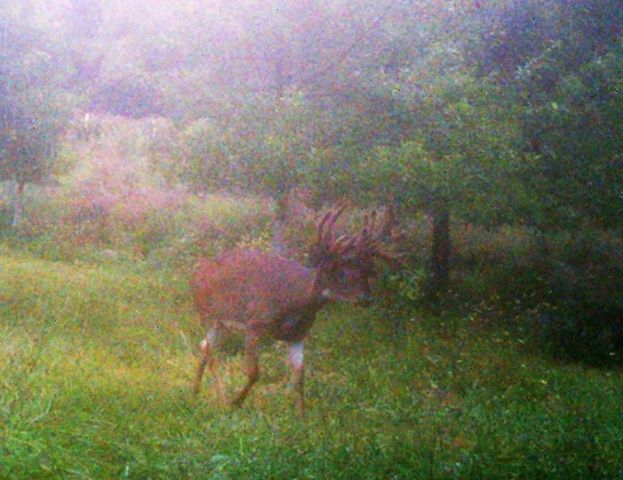 Don I've written to you a couple of times about how your Buck Bedding in a Bag has changed my farm and how happy I am – well this year I added about 3 acres of your soybeans to my other food plots. Look what showed up not clear but you can tell his worth getting excited about… Thank You Thank You
Rightfully so…..  who would not be excited?   Here is the story
*****************************************************************
Submitted by Richard Knippenberg (RWWP Customer):
Dreams Do Come True
No matter what we as humans get involved in, we dream and wonder "what if". Humans establish goals before we are even aware. Some goals can become an obsession, as in my case.  My buddy, Steve Bartley, introduced me to deer hunting back in 1974.  Since that day deer hunting became my obsession.     I'll never forget the trip when Steve told me to sit and be quiet as three does came to the pond to drink.  Watching them, I was stunned, as most people in my town of Lawrenceburg, Indiana hunted for rabbits and squirrels, but rarely deer.  I was bitten.
Once I decided to pursue the dream of hunting and killing a world-class deer, I created my "want list". I wanted to go on a guided hunt, I wanted my own property, and I wanted to create an environment that brought deer to my property.  As each of these goals were accomplished it lead to my increased appreciation for the Whitetail Deer.  Fortunately for me, my precious wife would just roll her eyes and let my obsession play out consistent with the rebuilding effort of my 1957 Chevrolet and my bass fishing career that never went anywhere.
The first goal toward the deer hunting dream was satisfied when my son and I started an annual trip to The Hunt Club in Percy, Illinois where I met Ron Doering.  We have been going there for 16+ years now, and Ron opened my eyes to the fact that Habitat is key if you ever want to see a giant deer.  Food plots have their role, but terrain and habitat are just as important.  Ron said deer needed a sanctuary, a place where they felt safe. I noticed everything on his property that enticed the deer, including autumn olives, fragmentize, Indigo, Korean lespedeza, edges and nuts, yes plenty of nuts. I started dreaming of my own place and what I would do.  Then the food plot revolution hit the deer hunting industry and my desire to own my own property really heated up.  I thought about it constantly.
Then it happened. My next dream gets fulfilled. I purchased 90 acres in deer country, Ohio County in Indiana in 1999.  I didn't know how I would ever pay for it, but I was on a mission.  It was bare. It was basically a hay field with about 35 acres of woods, so right away I focused on food plots.  Hunting improved, as I was seeing more deer and an occasional sighting of a 140-inch trophy.
Once I purchased my property, I started aggressively trying to emulate what I saw at The Hunt Club.  Based on the terrain, I placed rows of autumn olives and planted about 100 sawtooth oak trees that surrounded my existing food plots. I thought it would take years to get any benefit, but I was mistaken. Autumn olives grow fast, and with proper care my sawtooth oaks were producing nuts within five to six years.  Then I created edges around the food plots with Korean Lespedeza and Indigo plants.  What a difference! Some places were so thick in five years you could hardly walk. My fields were now what I wanted. I thought I would surly get an opportunity at a 160 or better buck, but after a couple of seasons I felt like something was still missing. The size was not improving.
Soon thereafter, I harvested a 163-inch buck at The Hunt Club in an area surrounded by fragmentize. It was so thick it took me four days to recover my buck.  I still remember thinking how much I would love my place to be covered with this stuff.  I thought that's it! I need a sanctuary, a place this thick on my own property.
I started looking for something to duplicate this cover, and that's when my farm took a quantum leap. I found a product called "Bedding in a Bag" from Real World Wildlife Products and talked with Don Higgins, its creator.  It was perfect.  I strategically planted it along the road, on my property lines, next to food plots, and in my bottom land to create a much-needed sanctuary.  I maintained it religiously using fertilizer and annual burns.  I was thrilled.  Seeing deer use these areas to fawn was awesome. Numbers were increasing, and I was seeing more deer with potential.
After another hunt at The Hunt Club I noticed that deer love soybeans in the cold winters native to Indiana.  Everyone is aware deer love them in the late summer, but soybeans provide much needed energy for deer when other food sources dry up.  Ron always left several rows of beans along his fields at The Hunt Club, and you could hear the deer crunching the beans from your stand.  I started looking for a soybean product that was winter-hardy, wouldn't fall apart, and would keep the beans on the vine.
I found this type of soybean from Real World Wildlife Products, and this along with their prairie grass product proved to be the missing link for holding mature bucks on my 90-acre farm.   Real World Generation 2 Soybeans was the product that put Medusa and others on my property, and with the Bedding in a Bag Native Grass product they stayed.  Yes, they stayed on my property.  It proved to be the winning combination for my 2017 season of a lifetime.  Imagine the odds of 90 acres holding animals unbeknownst to my neighbors –  amazing.  I was seeing larger deer on such a small tract – I have been told forever that you need to have at least 1000 acres to really manage deer and have an impact, but that just wasn't the case.
My property was finally ready to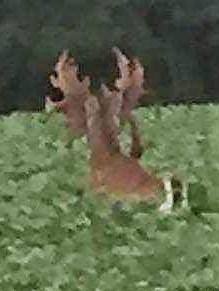 attract big deer. It was confirmed the day my 14-year-old grandson, Jake, and I were riding along in my Polaris Ranger, and out of the soybean field a huge deer with points going in every direction jumped in front of us. We couldn't believe the size of that drop tine.  We just looked at each other in amazement.  Based on his size, we decided to refer to him as Medusa from that day forward.  While I'll never forget the first day we saw Medusa, I'll also never forget the look from Jake's 14-year-old perspective. I could tell at that moment that he was going to be a deer hunter.  Not wanting to set his expectation too high, I told him that we would not likely see Medusa again, as big deer like that will not tolerate human interference.
I immediately set up about 16 cameras to see what else was using the RWWP Gen2 Soybeans.  To my surprise, there were other huge deer eating them, a 22 to 23-inch wide 10-pointer with 12-inch tines and an 8 pointer that was even wider.  They loved the privacy of my field surrounded by autumn olives and prairie grass and chose my 3 acres over all the surrounding much larger bean fields in the area. To my surprise, the deer I named Medusa was still eating the beans.
I collected pictures from my cameras at noon every day and was shocked that he was eating the beans about the same time every day and always at night.  Then I started moving the cameras to see if I could identify his travel route to get a day time picture – he was using the same entrance and exit points every day. As opening day of our Indiana bow season approached, October 1, I was getting fired up just thinking about harvesting him with my Mathews bow.  I plotted his movement on a topo map and it was obvious that he had taken residence in my  Bedding in a Bag field along the creek bottom.  I refused to be tempted to go find him and refused to hunt the three stands I had in this area for fear I would run him over to the neighbors.  I curtailed morning hunts, as he was nocturnal and would return to the field around 4:30 to 5:30 in the morning.  I wanted to avoid bumping into him again at all costs.  Patiently, I hunted evenings hoping he would head to my plots early. Just to torment me, he teased me with one daytime photo exiting his sanctuary at around 6:00, about an hour before night fall.
As the season progressed, I was getting exhausted and started second guessing my strategy – I passed the ten and the eight several times in October when my Sawtooth Oak trees were at their most productive stage – Point: If you have property and love to deer hunt you "must" make an investment in these trees, as they are unbelievable producers, and deer love them.  I set up ground blinds along the edges I planted.  I was approaching 200 hours on stand without one sighting of him having only pictures and videos confirming he was still located on the farm.  My hunts were taking on a pattern (at 5:00, three does would enter the field then two or three spikes, and then some 2 ½ year-old 8 pointers. then one of my shooters) and then it would get dark, and I would call my wife to bring the Polaris around and run the deer away, as I carefully eased out of the stand.  Every day we did the same thing for 51 days in a row.
On Sunday, November 19, 2017 my son Brian, my nephew Scott, and my best friend Gordy and I were planning on leaving for our 2017 hunt at The Hunt Club.  I decided to skip the hunt this year, as I was obsessed with harvesting Medusa.  After catching grief as I expected, they left for Illinois without me, and I continued my ritual on my 90 acres.  I was back to my evening hunts and expected minimal change until much colder temps settled in that would drive Medusa out early to feed on my turnip fields.
On the morning of November 21, 2017 with persistence from friends, I thought I would give a morning hunt a chance.  I waited for the right wind and slowly made it down the edge of my autumn olives when a large heavy deer leaped out of the bushes and ran towards the neighbor's field. I thought it had to be Medusa, and I was upset and scolded myself all the way to the blind.  Once settled in, I heard a shot from the neighbors and almost broke down knowing I just made a terrible mistake.  I came in early and called my neighbor to see what he got – it wasn't Medusa.
That afternoon I checked my cameras, but there were no new pictures of Medusa. That afternoon I prepared for my hunt like always, and I'll admit I was a little down. This deer was nocturnal, and apparently injured, as he had not shed any velvet.  But, I wasn't going to harvest anything any less, so off to my blind I went, and after four hours on stand I hadn't seen a deer. I decided to prop my feet up and rest till dark knowing this was going to be a night like all the others. Twenty minutes before dark the field would fill up with does and then I'd see some bucks, but no Medusa.  As I leaned back I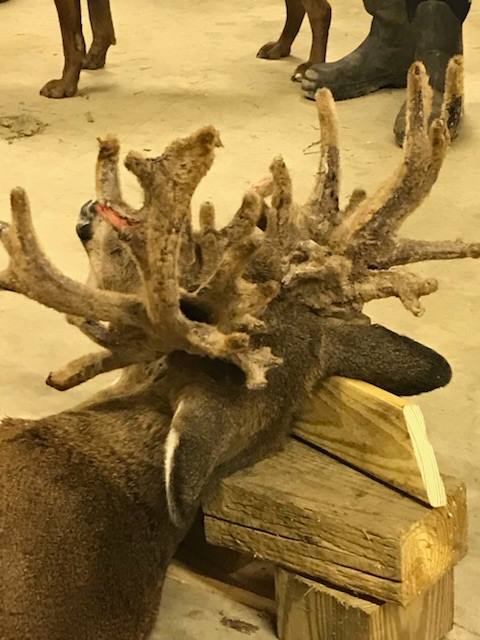 glanced over to the corner of my Korean Lespedeza plants, and there he was. I was stunned – right there – my first actual sighting of that huge drop tine after 51 days on stand put me in shock. This was my first actual sighting of this deer I named Medusa during hunting season.  H
e slowly came into the plot eating clover, and he was at 25-yards, so I reached for my gun. I kept telling myself to calm down, be careful not to hit anything, and get him in the cross-hairs. As I settled in he suddenly looked up, and without thinking I pulled the trigger.  He cleared the Lespedeza plants and crashed.  I can't describe the emotions that overcame me. I was shaking, and called my wife. After hearing her voice, I started crying and hung up. Knowing me so well, she knew exactly what happened and was congratulating me, as always.
I eventually called my neighbors and friends for help. All my buddies were in Illinois hunting at The Hunt Club, and I was shaking so bad I couldn't get down. Knowing they were on their way I just sat there and embraced the moment and started texting everyone that knew about this monster on my farm. We waited an hour and then set out for the tracking job ahead of us when my friend noticed something white over by the lespedeza bushes.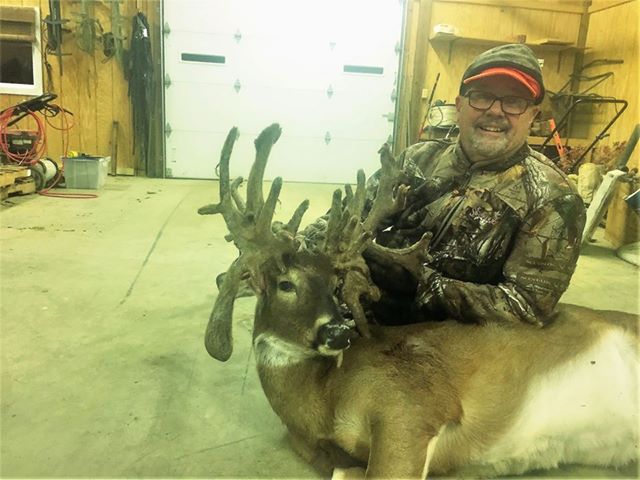 I told him it wasn't a deer, but instead a tree tube that I had placed there. He emphatically said, "NO IT'S YOUR DEER" and there he laid.  We started screaming, and when I picked up Medusa's head the fun began.  I am so thankful for my neighbors, Allen Kirkpatrick and Andy Mckinley, for filming the recovery and taking pictures as other friends started to show up at the farm.  It was amazing for this 68-year old deer hunter.
I pray every deer hunter experiences what happened to me this year, and to put the odds in your favor go beyond food plots, concentrate on the overall habitat, join QDMA, invest in plants that help create this type of environment, and take a serious look at Real-world Whitetail products. I highly recommend "Bedding in a Bag" and their Deer specific "Generation 2 Soy Beans".  These products were game changers on my farm.  Like I said before, "The Soy Beans put him on the farm, the Bedding in a Bag kept him on the farm.  Yes, on my 90 acres, not the 1000 acres I've been told I need to hold deer.
I just wish to give a special thanks to
Ron Doering of The Hunt Club in Percy Illinois for sharing his thoughts and information.
Real World Wildlife Products for their unique approach to food plots including Bedding in a Bag Native Grass Blend
Spandel Nurseries – for their great plants and trees
My friends for all their help on my farm especially Gordy Thomen for his endless hours – planting and setting up stands
My wife for putting up with my obsessions
What a way to spend your retirement years……