When RWWP was told the story of this young man, the first thing we wanted to do was help share his story. We were honored that Tate was willing to contribute as a guest blogger. This story is about perseverance, dedication, and commitment that will encourage everyone. I can not help but think about ways that everyone in the hunting community can try to be the rabbit hunter in this story. Enjoy!
Tate Writes:
I had just gotten in from my first bow hunt since letting my surgeon amputate my right foot 3 weeks earlier on September 15, 2015. The sun was just going down, prime time for deer movement in early season and here I was. Back at the house already because my amputated leg was throbbing with pain and I wanted to do was lay down. I got in bed, elevated the residual limb, and then took the wrapping and gauss off of the amputated leg to let it have some air. When I got the leg unwrapped I was disappointed in what I seen. The incision that was holding the skin together on the recently amputated limb had opened up. Had my love to get back to where I feel whole actually became something I had rushed to do and set myself back? That night while in severe pain I had plenty of time to pray and think. I ended up coming to this conclusion. I had promised myself that when I made the choice to let the doctor amputate my leg I would live a life that could help others by my example. I had told myself no matter how much pain I go through I will live a life that honors the gifts the creator placed in me. That night I told myself the purpose has to be greater than the pain. That night I set a goal to harvest a mature buck with my bow before I received a prosthetic leg, harvest one on one leg.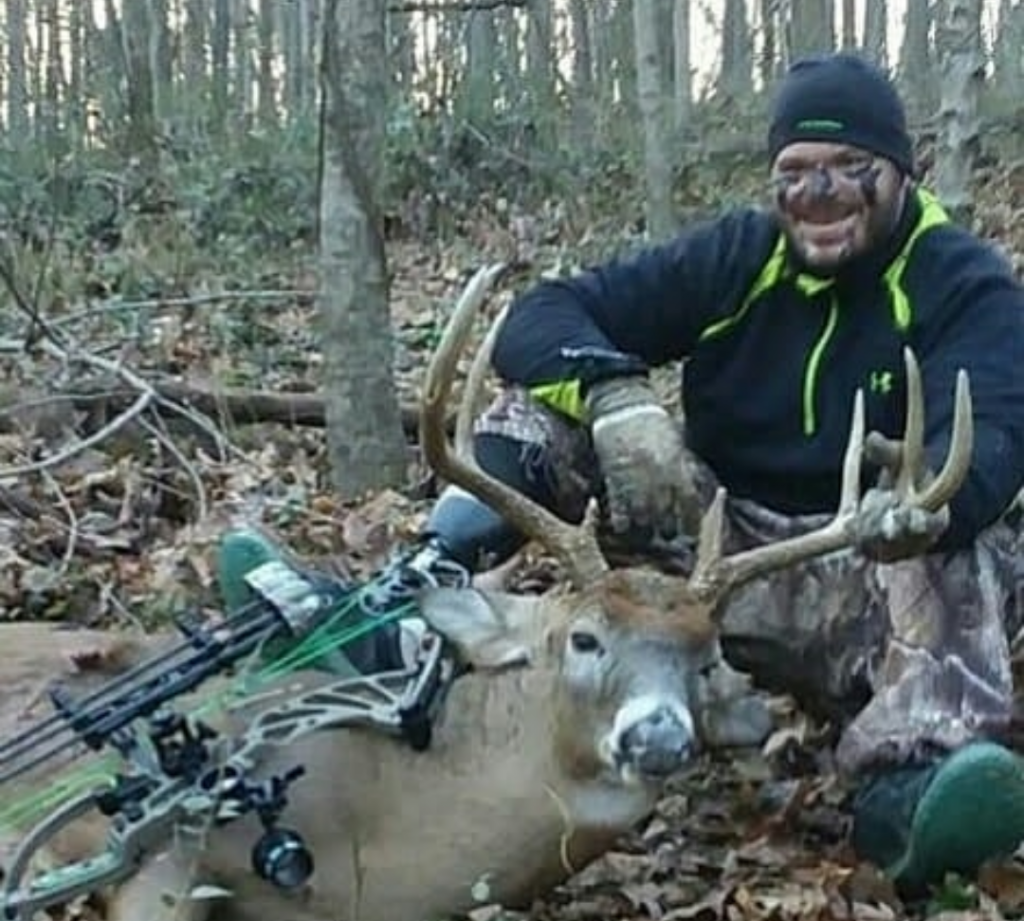 July, 29 1981 I was born with a degenerative feet condition called Bilateral Congenital Vertical Talus. A rare foot condition where the arch is actually an upside down bone mass that is shaped like the bottom of a walking chair. The Achilles tendon in Bilateral CVT feet are also 2-2.5 inches to short. Having my feet casted at age 2 weeks – 2 years old had no effect on the condition and this became something I had to just bare until age 12. At that time I met a surgeon that had worked on professional athletes that was willing to take my case. A surgeon that I hoped could get me back to hunting and athletics with less pain in my feet. At 12 years old I would have my first complete reconstructive foot operation. I spent most of my time healing in the woods hunting. It was just a place I felt a connection to something greater than myself. I wasn't raised in a religious home, sure we believed in God but it wasn't anything we spoke about or learned about. However, every time I was hunting I just felt a peace like no other and seen the beauty of creation.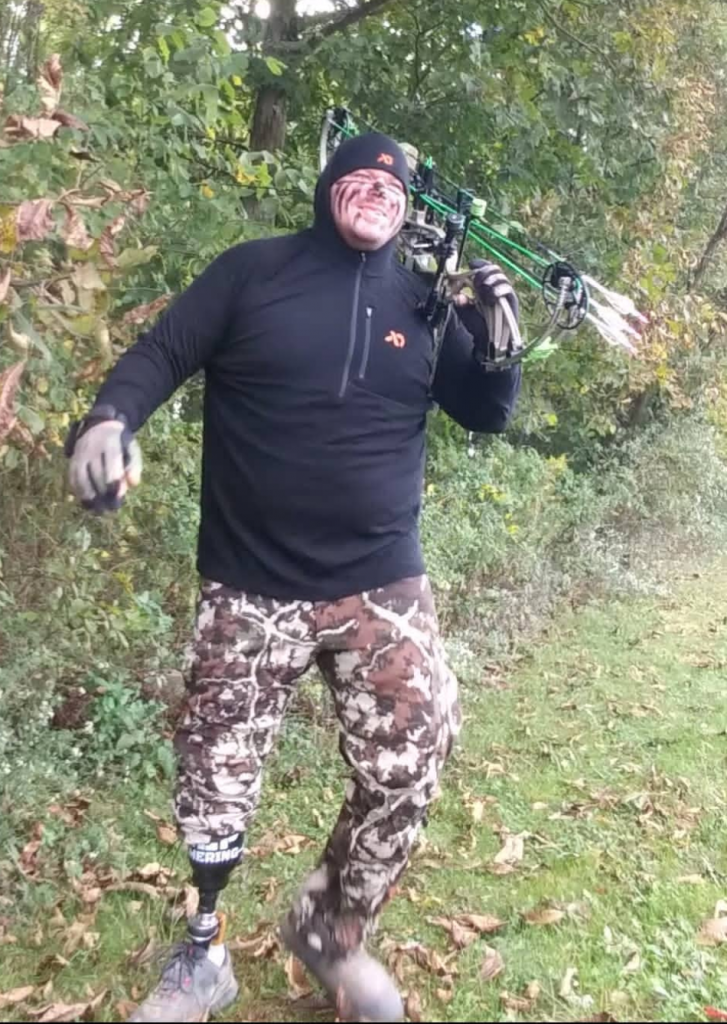 I would like to say that hunting led me straight to a positive life and God became an important part of my walk at a young age but that just isn't the truth, In fact it turned out I would have an anger toward God that fueled me to prove myself I could overcome great odds. I had been recruited to play college football in high school. Unfortunately my feet kept causing issues; I would have 3 off season reconstructive operations in my 4 years of high school football. Each college that recruited me once finding this out immediately stopped recruiting me. Not because of how I played but because of how I was made and if God was all loving and created us in his imagine and likeness then why create me with feet like this? All I wanted to do was play football and be active in the outdoors. How I was made really hurt my ability to do that I became angry with God and turned away from what little influence God had in my life at that time.
I was fortunate enough that a Division III college still wanted me to play football. In fact they offered so much grant money that it was very close to a full ride and I felt like I had accomplished my goal. Two weeks into college football the bone mass in my left foot shifted and crushed my Plantar Nerve and artery, the next day setting in my surgeon's office in Columbus, Ohio my dream ended. "If you don't stop playing football and living such an active life you will be in a wheel chair by 40 years old, I am telling you I will not allow you to continue playing college football." my surgeon said. What followed were a few years of extremely negative living. Being made to walk away from football and the constant pain only fueled my anger toward God and I kept going down the path of alcohol, drugs and women. There were more operations that had not effect, each draining my hope until I hit rock bottom. One day my surgeon told me his last prognosis was double below the knee amputation. I had run off all the good people in my life, the lifestyle I was living couldn't fill the void, I was at rock bottom. The next morning I was setting alone in my parent's living room and I broke down, crying uncontrollably when someone knocked on our door. I answered the door trying to hide my tears. The man asked if he could rabbit hunt, "have at it sir" I replied. Then he asked if I was ok? I lost it; I broke down in front of this man and told him everything. He told me none of it mattered, I was forgiven and he would gladly teach me about this forgiveness (Jesus) if I would like. I had tried everything else; why not give this a chance I thought.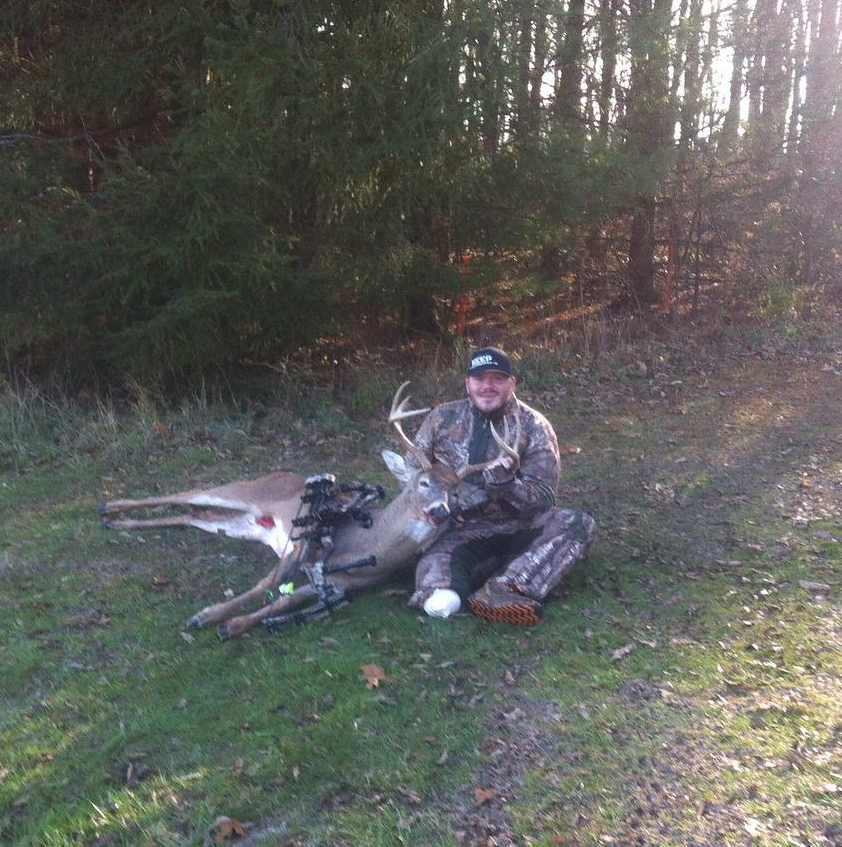 I liken my time for the next few years to the glass of grape cool-aide example. If we set a glass of grape cool-aid under a faucet and turn it on this is what happens. That pure water we our pouring into our cup will take some time to flow out all the dark we had in our cup. However, if we keep pouring in the positivity, action and the word eventually our cup is full of the clear and refreshing life we seek. So remember no matter where you are in your journey, it takes time, just keep pouring in the positivity and you will get there.
As time progress the degeneration in my feet took off but I had become stronger in my faith which ultimately made me stronger mentally. I would spend a bow season deciding if I would rather have my feet amputated instead of feeling the pain they caused each day and the physical ability it was taking from me. During the season in what I call tree stand time with God I made the choice to amputate my right foot, the worse of the two. I was scared but I knew this, I was protected, I had peace and I had a spiritual strength that would be there through it all. On September 15, 2015 I had my right foot amputated below the knee. All I wanted to do was heal up enough to get back to bow hunting where I could spend time in the Creators creation.
As you previously read my first bow hunt didn't go so well, and yes it ended up setting me back. However, the story ends on the promise I made that night, a promise that the purpose was greater than the pain. I would harvest a mature buck with my bow that season. I would use that season and story as a way to help others through their struggles and show who truly got the glory. I documented the highs, the lows and everyday grind and would have the story picked up by Petersen's Bowhunting Magazine where the story could be read by others and hopefully move them in a positive way. The words purpose greater than pain have led me to share my story through public speaking at wild game dinners, podcast, college athletic teams, college classes, high schools, NASCAR pit crews and now a blog. It has been an amazing ride and I wouldn't change a thing, but I will not act as if I am anything special. In fact the credit would go to that same God I held so much anger toward. When I was finally ready to listen I learned what I was born with was to provide a positive impact so much greater than 4 years of college football could have had. I've learned that when we attach a purpose that is greater than the pain we must go thru we always get through it a better person then the one we went into it as.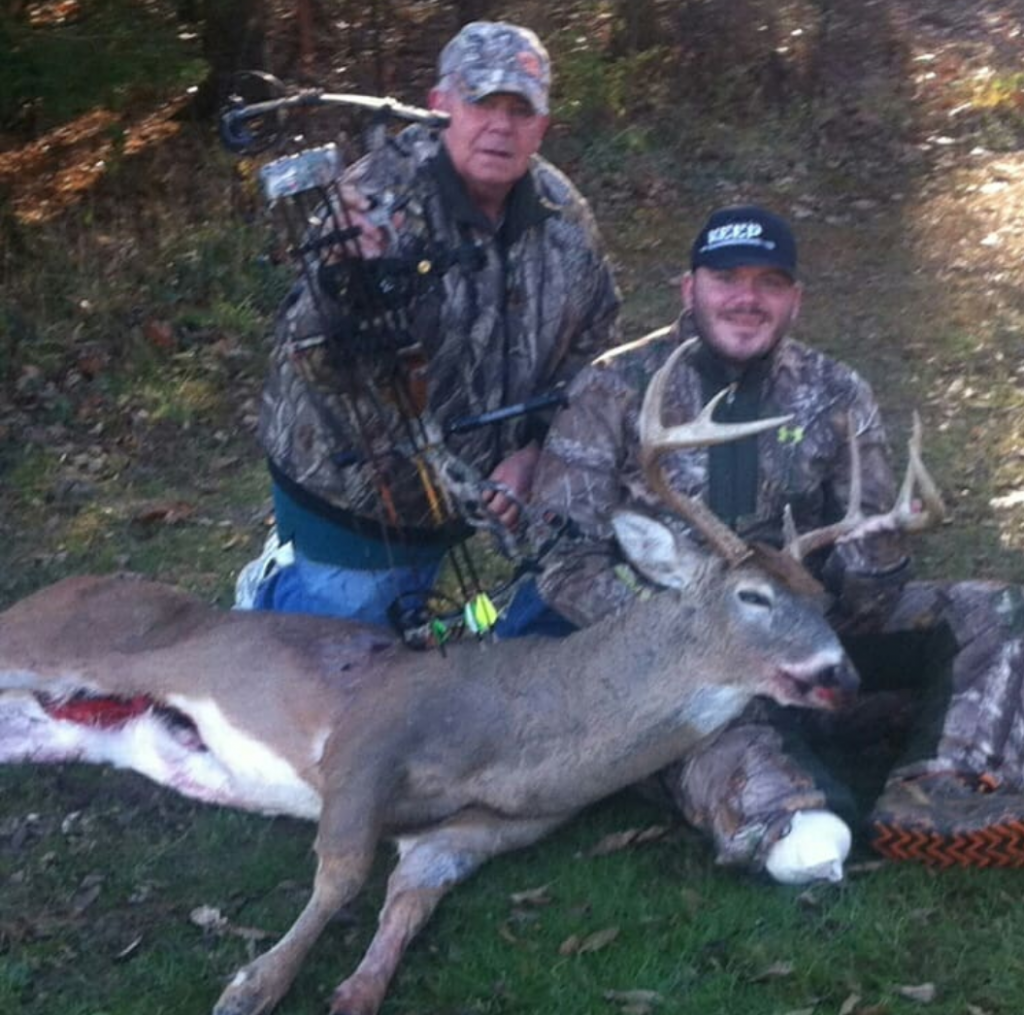 In conclusion, I want to leave you with a simple challenge. A simple challenge that I have laid down to those at every Wild game dinner I have spoken at. The challenge is this, pick up your good book and read 10 pages of the New Testament daily for 6 months. At the end of those 6 months I then challenge you to see how your life is better in every area. How your relationships are better, how your happiness is better, how your health is better an after those 6 months simply weigh the pros and cons. Is my life better with what I have learned from this book? I would be willing to bet every time the answer is yes. I would also be willing to bet if you continually apply those principles to your life there will be nothing in life you can't overcome, your purpose will be greater than your pain.
To Learn More About Tate Hale visit his Facebook page CLICK HERE