June is probably the month that I do the least in regards to things related to deer hunting. That doesn't mean I do nothing however. My mind is always thinking about how I am going to tag the next big buck and it seems that I always find more to do that might help take my deer hunting success to the next level.
By the first of June I always have all of my new stands in place and most years I also have all of my plots planted. This year was different however and I spent the first week of June finishing some plots that had been too wet to plant up to that point. Before the month ends I will spray all of my soybean plots and give my clover plots another mowing. It is important to mow clover plots about every 30 days to keep the plants from maturing and losing their nutritional value. By clipping the clover plant it will regenerate and this new growth is what contains the highest nutrient levels of any part of the plant. Mowing also helps control weeds in clover plots.
A lot of whitetail hunters start putting out their trail cameras in June but I much prefer to wait until around July 1. By this point bucks have enough antler growth to give me a good idea of the racks they will have this year. With some mature bucks you may only get one chance to get a photo from a particular location. I know this isn't always the case with all bucks but it certainly is with some. If I am only going to be afforded one opportunity to get a buck's photo, I want to do it when his rack is more developed than what they are in June.
By the time we turn another page on the calendar and mark the beginning of July, my world will kick into a higher gear. Not only will I be putting out around 50 trail cameras on numerous properties but I will also be back on the road giving seminars at a lot of Real World dealer events. In July and August I have over 10 events in Illinois, Indiana, Kansas, Iowa, Michigan and Pennsylvania. Be sure to like the Real World Wildlife Products Facebook page for dates and details about each of these events.
In anticipation of the upcoming trail camera season I am going to share a photo of a buck that I am anxious to get photos of this summer and very well may be targeting this fall. This buck will be 6 years old this year and I have 5 shed antlers from this buck from the last 3 years. He is not the biggest buck I am hoping to get photos of this summer but his age and the fact that he was a solid 170" last season has me excited to see what he looks like this year.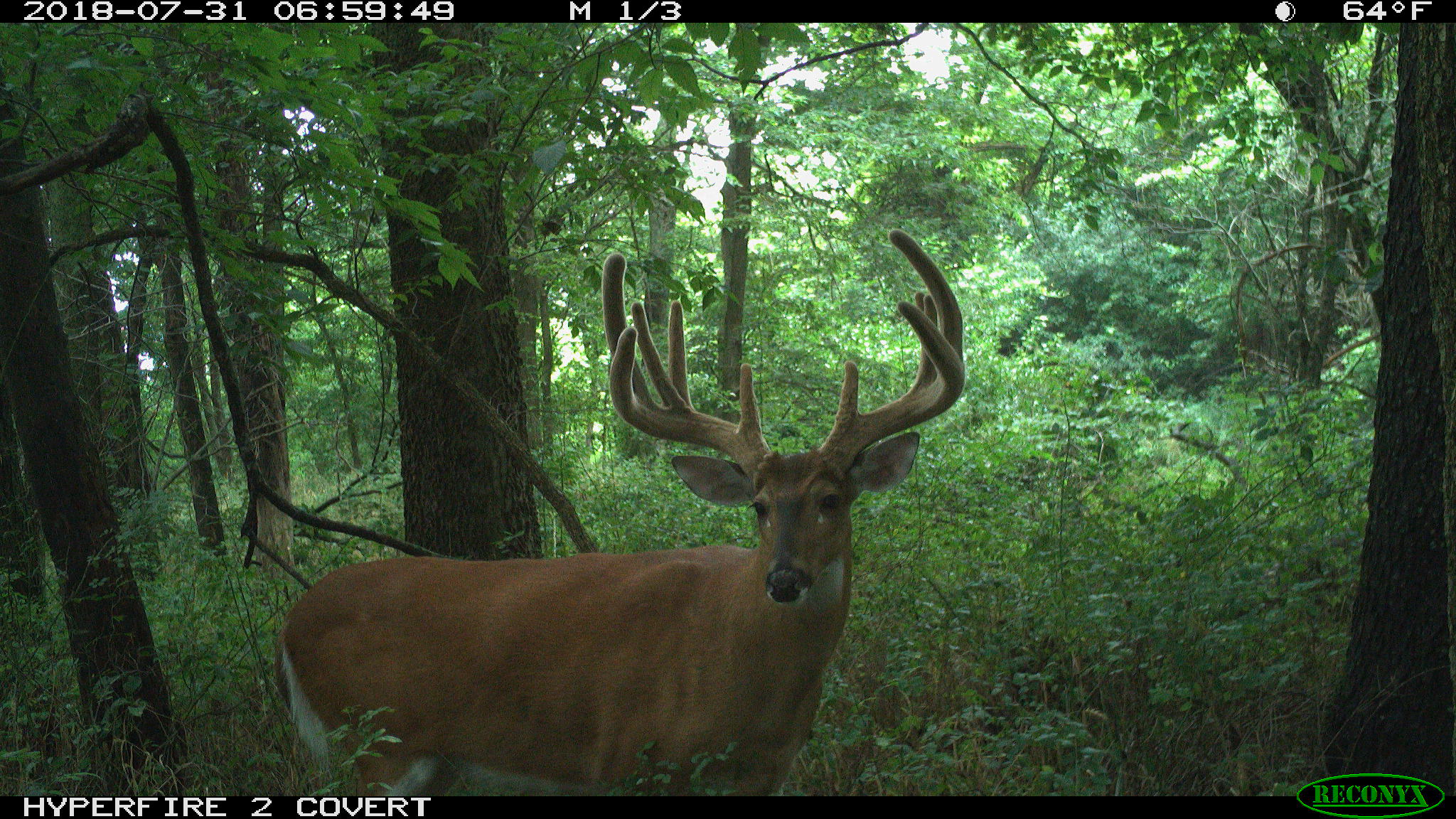 Thank you for supporting Real World and best of luck getting some photos of those velvet giants this summer!