Early November consumes every hunter's thoughts each year.  It is the time many of us dream of.   As travel and hunting plans were being made for my 3-day weekend hunt in Illinois November 4-6th, I started to get a little concerned about my normal spot in East Central Illinois.   Even though we have a target buck on one of the properties, the conditions did not look good for me to hunt that farm in what some people claim is the prime time of the year.
As I was discussing travel plans with the guys from Real World, we talked about the possibility of me using my archery tag to kill a cull buck over some Real World food plots.   Since I still had a shot gun tag for Illinois, I jumped on the idea if it was a mature deer.   The one condition in coming up is I had to understand there were some really big bucks on the properties that were not to be shot.  So I wondered – how big are the cull bucks?  When Don Higgins says that they are mature, you just say yes sir and thank you!
As I traveled to Illinois Friday night after work, I really did not know what I was getting into.   Don and I talk almost every day through phone calls, texts or emails.   In the 13 or 14 years I have known Don, we have never hunted together but at the end of the day, I was excited to visit with Don and have some of his 2017 luck rub off on me.
Saturday morning, we went to a property about 30 minutes from his house.  I had never been on this property before.  I had never seen any tr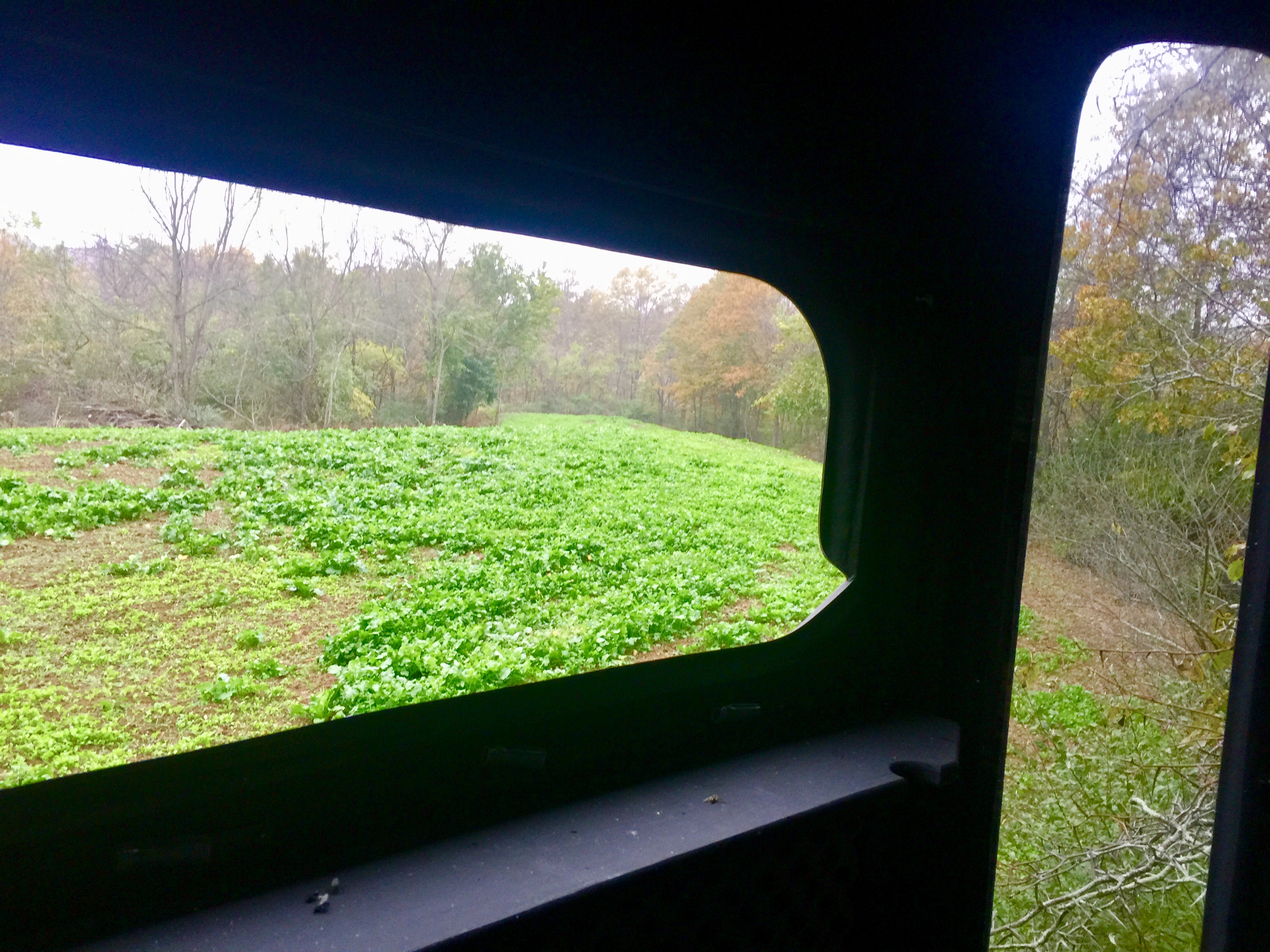 ail camera pictures from this property.   All I knew is that when the sun came up, I was sitting in a blind looking over a lush Real World Deadly Dozen Food plot.  The kind you would expect from a property managed by Kevin Boyer and Don Higgins.   As we sat there and watched the field, a few small bucks came through but no shooters.   As we were walking out late morning, Don needed to pull a card on another trail camera.   We slipped up to a Real World Soybean field and jumped 2 does bedded in the beans.   As he pulled the card, 30 yards down the tree line steps this massive wide 8 pointer.   My eyes got big and Don says "that's a shooter."   I did not see any positive outcome in trying to raise my crossbow and trying to shoot in this situation.   We just stood there in one of those famous standoffs!  We have all been there.   It literally feels like several minutes but after about 20 seconds – he ran back away from us.   WOW!  That is exciting if that's the type buck Don wants me to shoot!   I couldn't wait to come back that night and hunt one of the food plots again.
When we arrived back at Don's house, he wanted to show me some bucks on his property that he wanted shot.   As we sat down at his computer, the second buck he pulled up got my undivided attention.   Don called him the "OLD GUY."  He was a massive and short tine bruiser.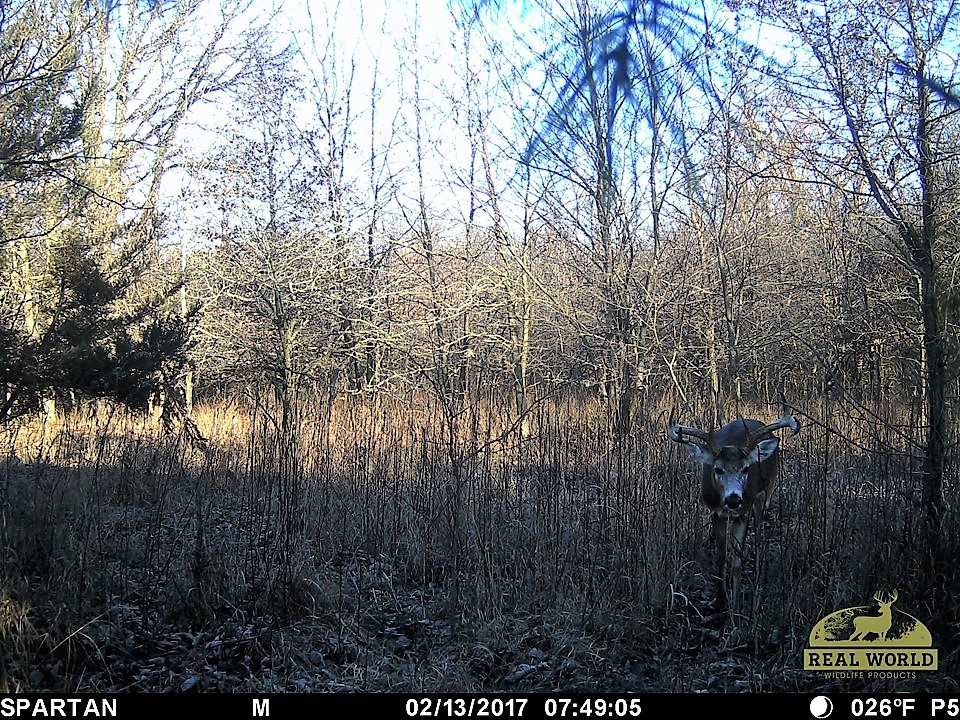 The thing I noticed was the grey hair on his face.   I asked Don how old he was and his response was "at least nine."   I kind of chuckled.  I thought about how we all have those friends who claim they shoot 6 year old or older bucks every year.   Or the guy that shoots a smaller deer and to save face, claims it was an old management deer.  Yeah – we all know those guys.   But then Don started pulling up trail camera pictures dating back to 2011 and there was no doubt this guy was that old.
He asked if I would be happy with OLD GUY and I said that would be amazing!   So we planned a hunt for that evening there at the Higgins Farm.   With the wind direction preventing us going to his first choice, the second choice was set up between two patches of Real World Switchgrass.   We were up in a 360 Hunting Blind in a row of mature pine trees.   Each side of the row of pine trees had a strip of Real World Clover Chicory.   Don's hope was that the OLD GUY was bedded up in there and would work down to the creek on a scrape line Don had gotten some recent pictures of close to dark.   As we sat there, we saw a couple young bucks chasing doe.   It was about prime time when a doe started acting really funny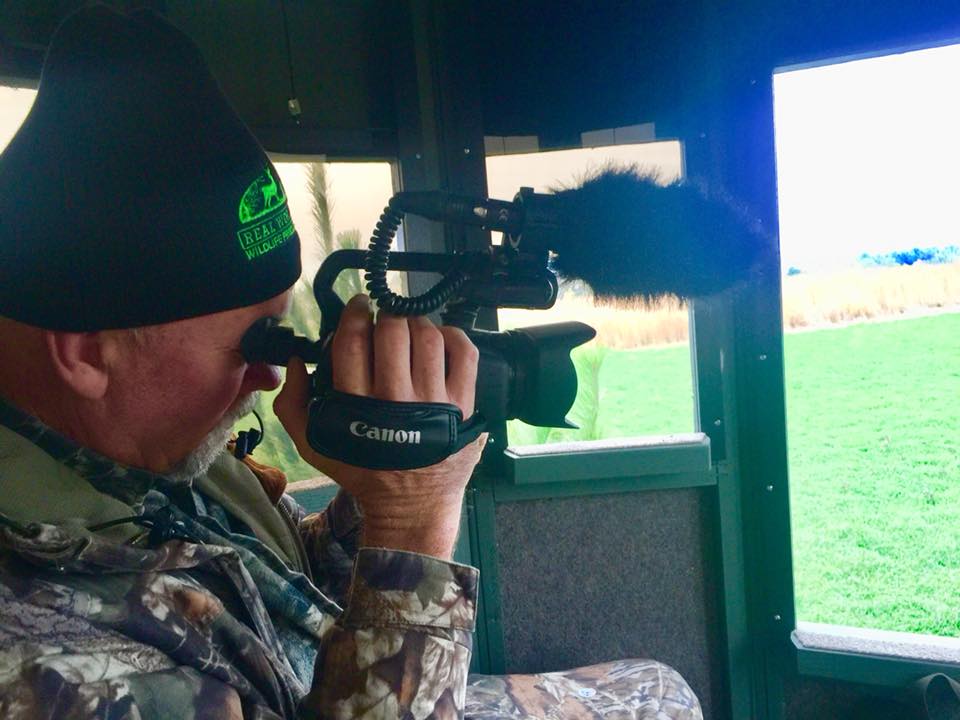 about something in the grass.  We knew something was there and I was starting to get excited.   That last thirty minutes of light always does that to me.   We watch carefully ready for a giant to step out when out steps a coyote.   He stretched himself out there in the clover patch like he had just gotten up from a nap a few feet inside the grass.    Don's immediate comment was "shoot him."     We have all been there.  Yes – it's going to ruin your hunt – but that is a sacrifice every land manager makes with no questions.   You shoot it.   He presented a shot at about 42 yards and I sent a crossbow bolt through him.   If nothing else comes from this hunt – I got to talk hunting with my friend Don for three days and shoot a coyote for him.   That's a great weekend!
We woke up Sunday morning to the worst wind conditions we could have to hunt for the OLD GUY.   With storms rolling in, we tried to hunt the far north end of the property in hopes that he or another hit list buck would come by.   For Don – it was about getting one of the culls he wanted killed.   For me – it was hoping that buck was going to be the OLD GUY.   We spent a lot of time Sunday morning talking about genetics and how whitetail provides such a great example of God's Creation being so complex that only He could make all of it work that way.   As the rain started to move in, we packed up the hunt after watching a small buck cruise around the food plot.   We came in early and got cleaned up so I could attend church with Don's family and go get lunch afterwards.  The famous words of "Behind every great man is a great woman" are true for Mrs. Robin Higgins!  Her kindness and hospitality every time I am there is so appreciated.    We spent the rest of the evening with Kevin Boyer, President of Real World Wildlife Products.  Due to the tornado watches and heavy storms rolling through the area there was no hunting for anyone.
Monday was the day we were looking forward to.   I cannot remember how many times Don said – Monday was going to be the best day because of the storm that blew through because of the temperature change.   Don was a little disappointed when we woke up and the wind had not shifted from North to North East yet.   He said we would have to hunt the blind that he killed Smokey (the 206" buck) out of a couple weeks before.    As we climbed up into the stand, it just felt special.   When you're hunting a spot that a guy killed a 206" buck out of … IT IS SPECIAL!    The first deer we saw was a giant by my standards.  He was down by the creek at first light.   He was one of the bucks I was not allowed to shoot and I am not allowed to talk about.   The second buck we saw down on the creek was the OLD GUY.   I actually saw him in person!   I was shocked that he was up.   He was working a scrape line with a doe close to him.   We watched him stay with her before they went up into the bedding grasses and disappear.   As the morning drew on, we saw 6 other bucks and a bunch of doe.   What a great morning!   Things were slowing down when Don had to leave to take care of a business item.   I could tell he felt bad wanting to get out of the blind and I told him to go.   He said I could stay and hunt without him.   I told him that I would not shoot anything without him there.   I would sit there and watch to see if the OLD GUY would get up and move out of that bedding grass so we can have a plan for that evening.   His response – "you know what you can and can't shoot.  I trust you."   I don't know how many people out there take lightly that amount of trust given to me.   The guy that passed on a 190" buck so he could shoot him at 206" the next year out of the exact chair you're sitting in is letting you decide what buck to shoot after looking at a handful of pictures.    HOLY CRAP!  The last thing he says to me is "I really hope you get a shot at the OLD GUY.   I want someone to get him that will appreciate what he is."
Don gets up and leaves the blind through his escape route he has created undetected.   I sat back down alone in the chair just thinking … WOW!!    I won't lie – I got a little cocky!    I got out my snacks and had something to eat thinking, "I am sitting here in control of every hunters Graceland."    About 15 minutes after Don left,  I snapped a picture out over the Deadly Dozen food plot.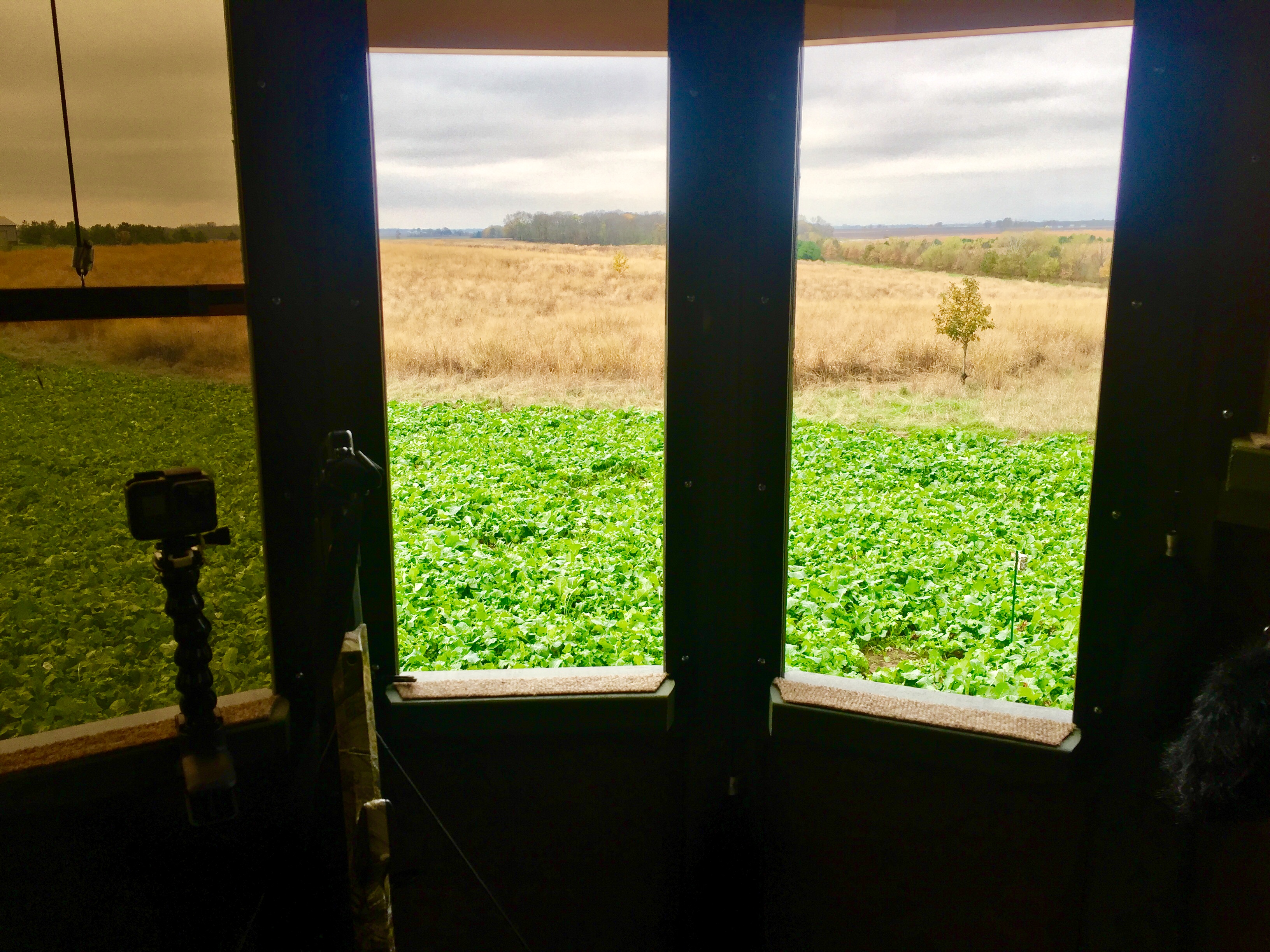 I sent a text to my buddies at Pro Talk Outdoors, Dave and JP saying, "guess where I am!?"    Yeah – I was being a little (okay a Lot) cocky and rubbing it in to some friends.   They responded back knowing exactly the spot I was in.    As I started to respond to their texts – I looked up and here comes a buck straight toward me.   It is him!!   It is the OLD GUY.   No binoculars needed.   No decision making needed.  No doubt which buck he was.   He disappears coming up the hill into the pine trees making scrapes.  Pops out – then back in.   He is hitting every scrape coming up the hill.   As he closes the distance at every tree the excitement keeps building!  I kept thinking  – I am going to get a shot.  I am going to get a shot!      DO NOT SCREW THIS UP.     DON IS GOING TO KILL ME IF I SCREW THIS UP.    As he approached to around 25 yards, I released a crossbow bolt into this massive animal sending him into a huge leap to his left immediately crashing into the fence.  Out of sight, I heard gurgling and thrashing in the leaves and fence.   I just shot the OLD GUY!   Looking down at my phone, the text window was still open to Dave and JP and I said, "I just shot the nine-year-old!!"   I don't even know what their response was but I am sure it was 20 questions like … where are the pictures?  Did you get him on video?   What does he score?   Do you have him caped out yet?   Do you know Brantley Gilbert (just kidding)!?   So for the record, I want everyone to know that Pro Talk Outdoors got the first notification of me killing this deer.   They had the exclusive notification even before I told Don.    Consider yourselves lucky boys!  HAHA!!
I climbed out of the blind leaving everything there and started walking the escape route.   I needed to call Don before doing anything else.   My phone buzzed and it was Don telling me he would bring me lunch and things to watch for so we had a plan for the evening hunt.   I responded with "doesn't matter because I just shot the OLD GUY."    I am not sure if I heard brakes lock up out on the road or not.   My phone rang immediately with an excited Don Higgins voice!   He was just at the end of his road.   "Are you serious!!"  he asked.  My guess is he was pulling out of his house about the time I shot him.   It was that close.     As we got a plan together on how we were going to handle everything when he got back from town, I walked back up to the blind to pack up everything.   The plan was that I was going to wait for him to look for the deer.   I did not know if he had gotten over the fence or not.   As I walked up to the blind my curiosity got the best of me.   I got down low to see if I could see anything through the pine trees.    Through the trees I could see the buck, tangled up in the fence laying there dead.   Emotion poured over me.   What did I just do?   Seriously – what did we just do?
Don shot a 206" deer and about 3 weeks later, I shot a legit 9-year-old buck out of the same stand on the same Deadly Dozen Food plot.   I am not sure which is rarer.  Killing a 206" or killing a 9-year-old buck but when you put the two together 3 weeks apart out of the same blind on the same food plot, I realized that Don had allowed me to be part of something very special.
As we did a Facebook Live and took the pictures, I couldn't help but think about how Don has been one of the most giving friends of mine the last few years.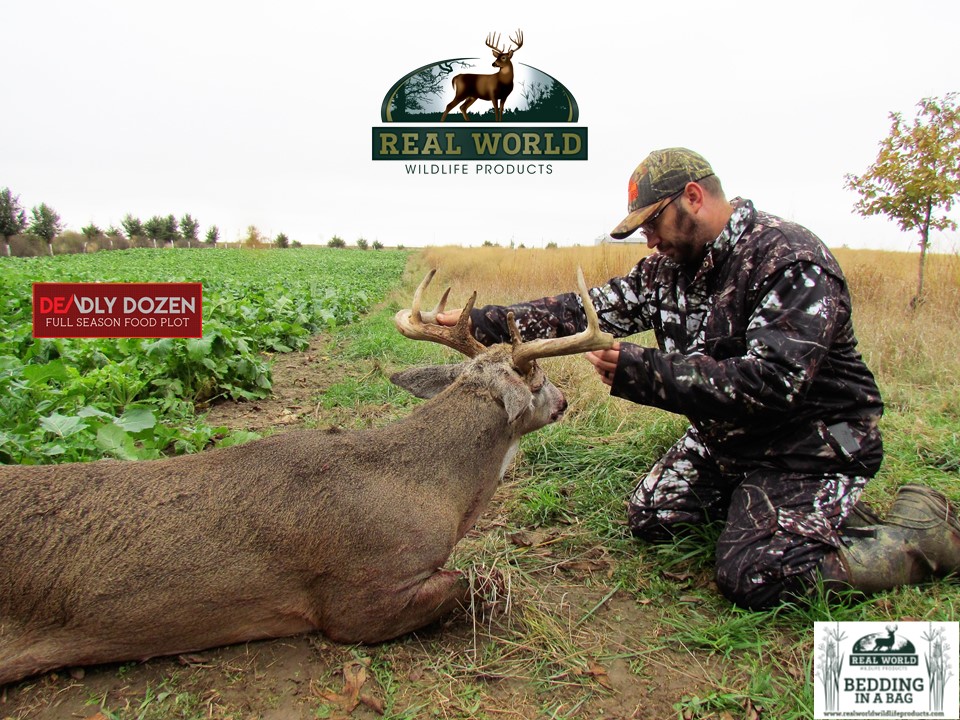 We do not agree on everything and we debate back and forth all the time on things but sharing in the events like Smokey and now OLD GUY are very special to me.   I sat there and watched who I believe is one of the best and under rated whitetail deer hunters and land managers of our day as excited for me as if I had just shot another 200" buck.  I think he knew I appreciated the meaning of harvesting a 9-year-old buck.   As he took his time taking pictures of this once in a lifetime buck, I know how blessed I am to have him as a friend.
OLD GUY will not go down as a great scoring buck but I will treasure this different type of trophy that was shot over the same plot knowing that I was part of a special year for Don Higgins and the rest of Real World Wildlife Products.
He is truly a different type of trophy harvest from the same Deadly Plot!
Here are a few of the Trail Camera Pictures dating back to  2010 when we believe he was a two year old.