A couple weeks ago, we shared a piece about having patience for a food plotters.   The same food plot featured in that story proved to be the game changer for Real World's Terry Peer opening day in Indiana.   With September rains and heavy dew, the Real World Wildlife Products DEADLY DOZEN blend was coming on strong and attracting deer as designed.  Here is the story.
The week leading up to opening day, weather forecasts showed cooler temps and winds out of the SE for opening day in Indiana.   I was excited to hunt the new lease but was more excited to see the food plot.   I have stressed over this plot so much since early September when it was not growing due to lack of rain.   Seeing pictures from other guys after it started getting rain had me relieved.  I was anxious to try to get some good b-roll footage of the Deadly Dozen.   With a break in the heat, I started studying the aerial maps for a parking location, entry route, and stand location to take advantage of the cooler temps.   We only had 2 stands that would work for a south-east wind.   Ironically, no one else was hunting the property that night. I got my pick… Getting the opinion of my partners on the lease, a hunting plan was put together for the evening of October 1st, 2017 to get into the stand on the north side of the food plot.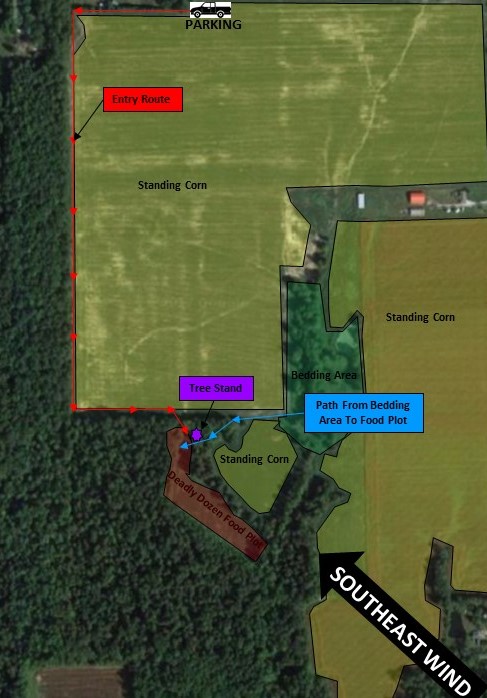 I left my house around 2:15 PM so I would have plenty of time to drive to the lease.   I pulled in and parked the truck around 4:00 PM.   Normal to every hunt, I hid behind the truck and stripped down and tried to wipe off and take my hillbilly sponge bath as much as I can.   This is the first year I have used the Scent Crusher Ozone Bag.   I have always been very conscious of scent but have been reluctant to use Ozone Technology in the stand.   As I researched the storage bags, I decided to give one a try.   I got changed and had all my camera gear packed up.  I started easing around a large corn field where my lease partner Eric had mowed a walking path.   The 24-minute walk brought me around the other side of the corn field to the North end of the 3-acre food plot.   Just before climbing up into the stand, I pulled a trail camera card off a nearby tree to see what was in there the night before.   As I get up into the stand, I figured out that I forgot to swap out the mount on the bottom of my camera from my tripod base to my camera arm base.   The camera arm base was in the truck.   Looked like the intention of getting b-roll footage was not going to happen.   At least I had my Go-Pro.   I get it out and start setting it up – No SD Card.   It was still in my laptop.    ARE YOU KIDDING ME?   I don't know about you, but every year it takes me a couple hunts to get back in the groove and have everything I need.   This is so frustrating.   Finally, at 4:45 PM, all was calm and quiet and the waiting game began.
At 5:30 PM the waiting game was still going.   Even though the trail camera showed deer in the food plot the night before at 5:00 PM, nothing was moving.  6:00 PM came and went, still nothing.   I was getting texts at 6:30 PM from the other guys in the lease asking, "see anything?"   Maybe me forgetting my camera equipment wasn't that big of a deal.  This night felt like it was going to be a bust!   It was dead.  I mean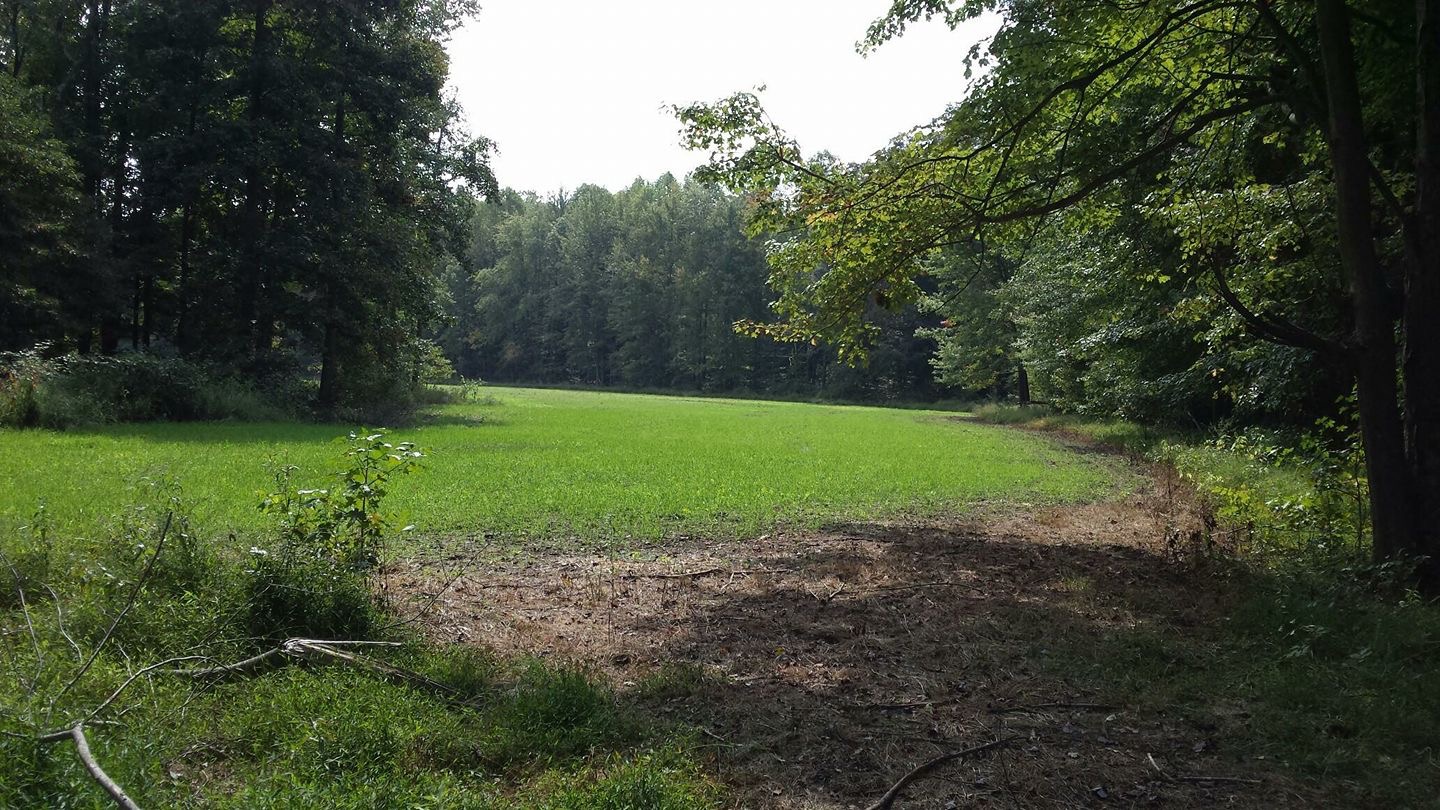 dead.  No squirrel's birds, nothing!   At 6:45 movement in the woods to the west catches my eye and I see a doe coming out of the timber.   She popped out into the food plot straight across from me but kept walking.   Never missing beat, she keeps walking straight to me.   She crosses the ditch at 12 yards to my south that leads back into the bedding area near a pond.   That was weird I thought.   I figured they would be coming from the pond and bedding area to the food plot, not the other way around.
At 7:10 PM I hear some noise in the standing corn to my north.   I look and can see the corn stalks moving.   "Great, that deer is straight down wind of me," I thought.   I keep watching with my binoculars and finally see a little 6 pointer come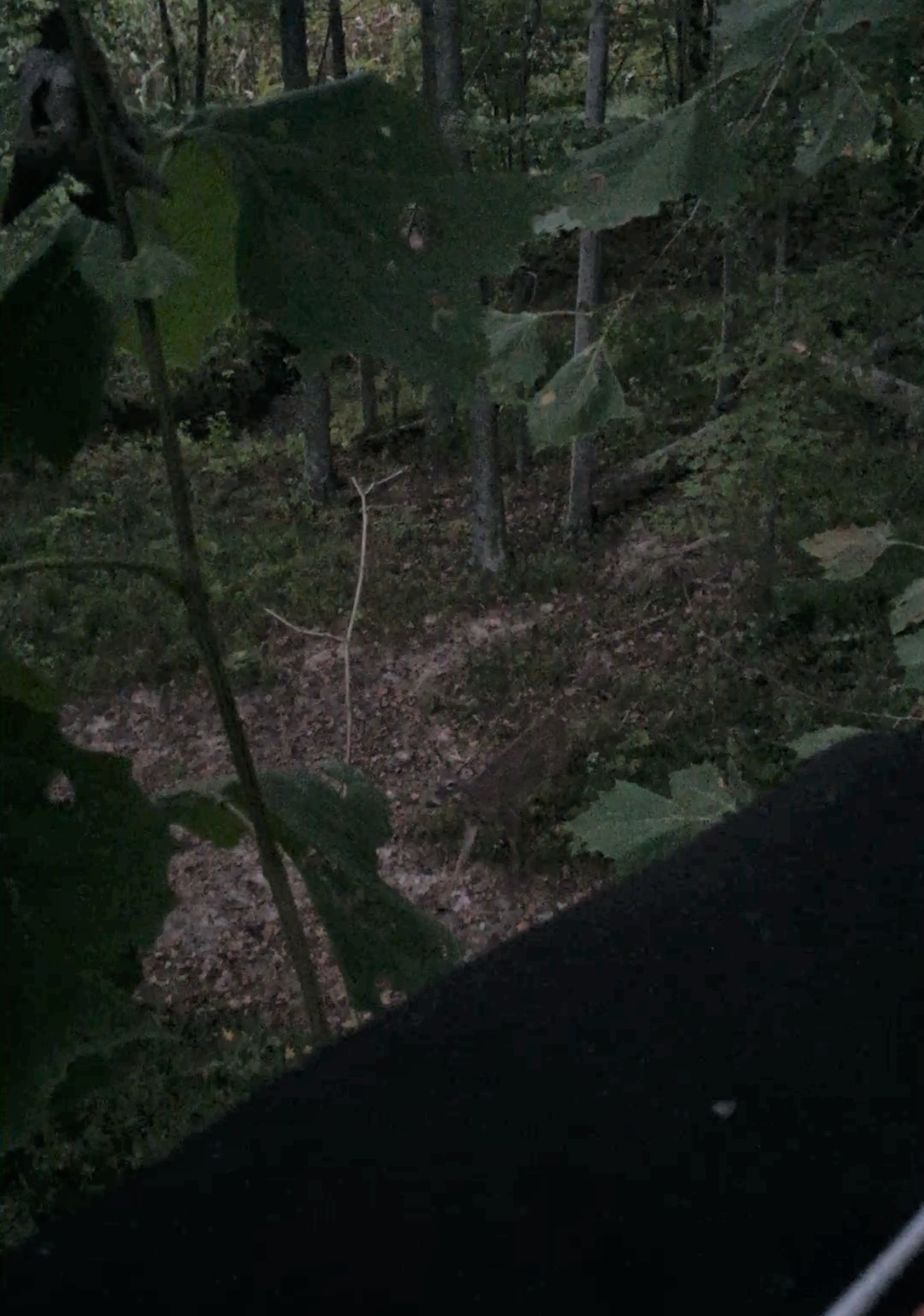 out of the corn.   He is about 45 yards from me.   He goes down the tree line and makes a scrape before slowly turning and walking my way.   I knew if he smelled me and blew out of there my hunt would be ruined for the night.   He slowly kept coming.   He ended up walking through the thick stuff just 5 yards to the north side of my stand before going out and feeding into the Deadly Dozen food plot.   Isnt it funny how deer do not even walk paths sometimes.   I resorted to filming this all with my cell phone and sending it to the guys on the lease saying, "we need Grandpa Jones to do this."  Grandpa Jones was one of the shooters we have on the property.   As he fed out into the field, I am taking pictures and thinking that at least I got to see a deer.   I hear something over my left shoulder and see a spike coming from the direction of the bedding area walking toward the food plot.   He was walking the same trail the doe went in earlier 12 yards to the south of my tree.    As he went to cross the ditch, I noticed he kept looking back at something.   As I slowly turned my head over my left shoulder I saw another buck through the leaves.   I could not figure out which one he was.   I couldn't really move much as the spike was right there under me.
To be safe, I slowly raised my crossbow to be ready.   Still couldn't see as he eased slowly down the path toward the food plot.   I kept telling myself, do not shoot the wrong deer.   As he got closer, through an opening in the leaves I saw the G-4 leaned forward and a curled main beam and knew it was Cloud9.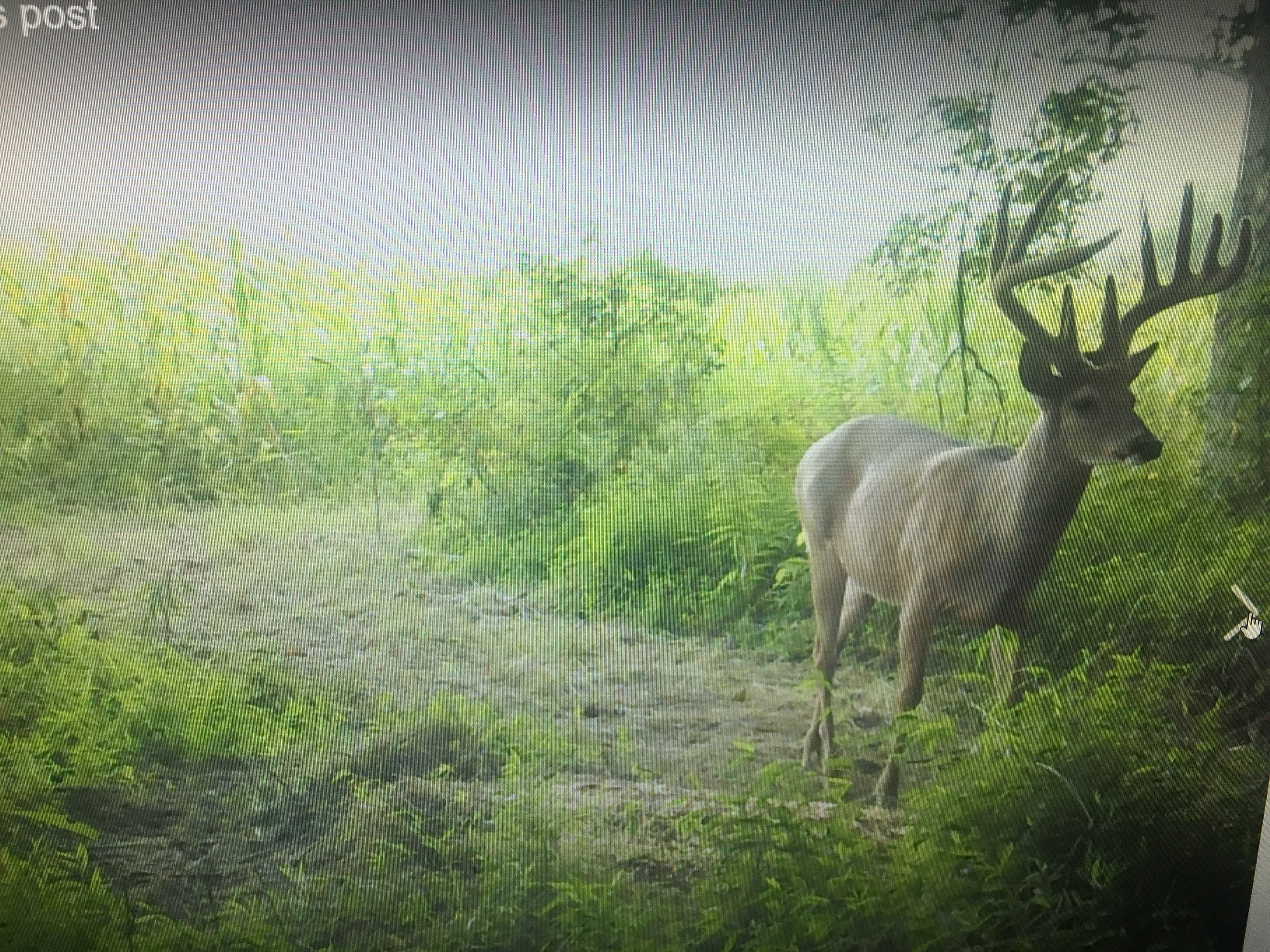 This was one of our target bucks who had been more visual than any other shooter.   As he cleared the branches and dropped down into the ditch, I put the crossbow bolt down through him.   He immediately dropped as the angle of the shot broke his spine.   That's the feeling we all can't explain.   Just after the shot of a target buck there is no words to describe it.   I was calm till that point then the shakes started coming.   I got him!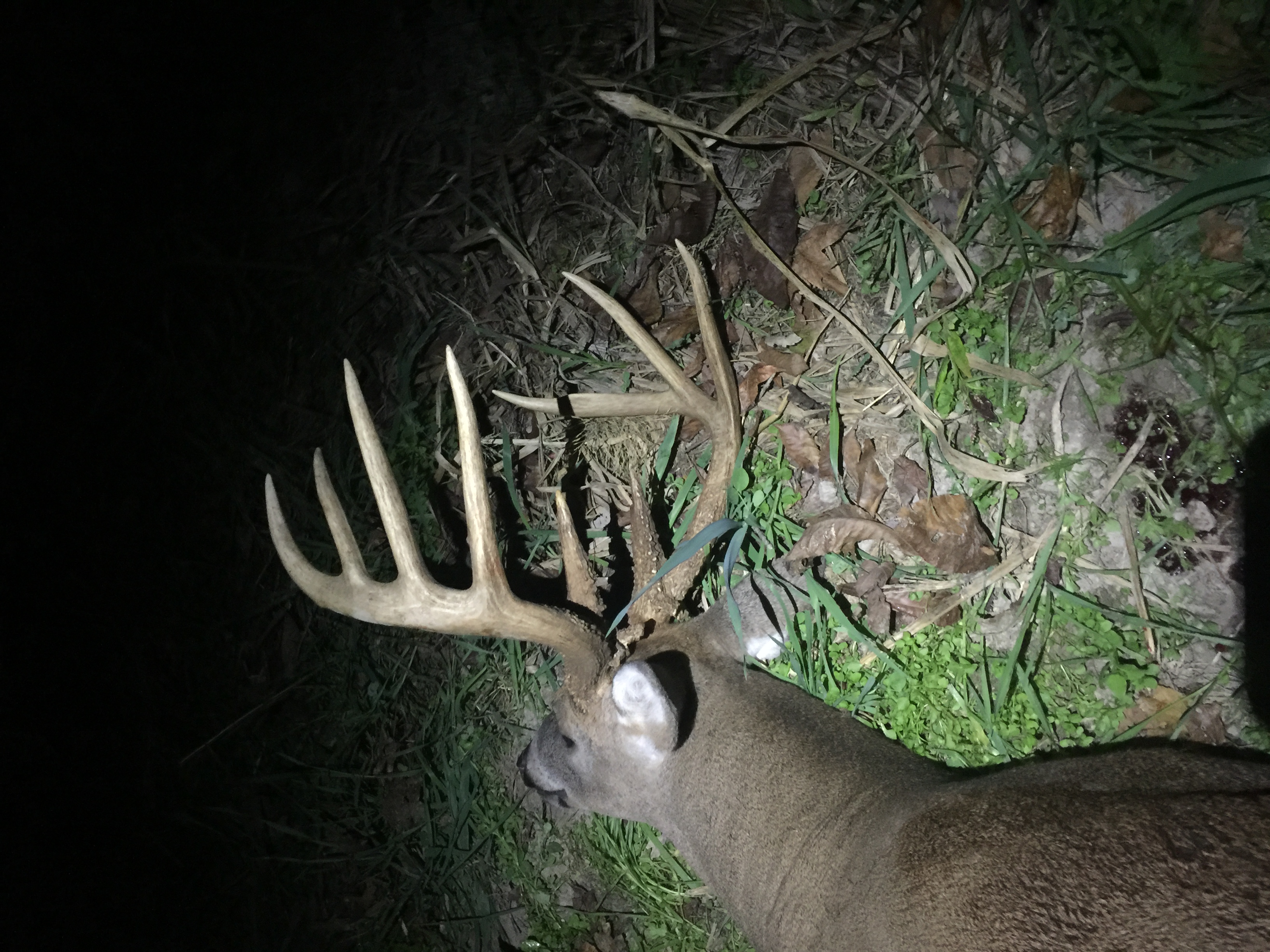 Quickly, I fumbled around to get another shot in him and that was it.   Cloud9 was laying in front of me with 2 lumenok's glowing just before dark.
I start texting the "list."   You know, the group of people who are the first to get notified that you got a buck down.   One of the best feelings in the world is sending out that text and everyone asking 35 questions that they know you don't have time to answer.   Everyone wanting pictures that you haven't taken yet.   It's a great feeling.
As I got down out of the stand, I only had one concern.   Please don't let this be a different deer than I thought it was.   As I pick up the heavy mass base, relief set in that it was truly Cloud9, dead in a ditch beside my food plot on opening night.
I called Eric and asked him to help since he lives close.  As he was bringing the side by side in, I completed my tag paperwork and just sat down and reflected a little bit.   How did this all come together?   Seriously, on a 600 acre farm, how did I come in here on opening night and kill a mature target buck?
I have a very supportive (maybe understanding is a better word) wife who told me to go hunting even though it was a crazy day chasing kids around. She delayed leaving on a business trip till 5:00 AM Monday morning just so I could hunt.  I know she does not understand the time, money, and energy I put into this but she tolerates and supports it.
The game plan the members of this lease put together in August was key. One of the guys knows the farm and helped us formulate plans on where stands should go in relationship to bedding and food sources.  This saved us a ton of time.   It would have taken us years to understand this property the way he does.   Without Eric, this doesn't happen.
Having a food plot in this area changed the game. With 400 acres of standing beans and corn on our property alone, I am 100% confident planting this food plot in the center increased our odds of harvesting this deer opening night.  Real World's Deadly Dozen mix is marketed as a full season food source and that is exactly what it does.   It attracts and keeps deer on it from early to late season.   Cloud9 got up out of his bed and was walking past standing corn and beans to get to this field.
Scent Control along with parking and entry route were key for this hunt. You must know your farm and know where the bedding is.   This is two years in a row where I have harvested a mature buck by understanding how to slip into the right spot undetected.   The small buck that I saw, still came in downwind of me.   Scent control is important.   I am not endorsing any product and can't tell you if the Scent Crusher Ozone Bag worked or not.  I cannot tell you if the Nose Jammer I sprayed worked.   I can tell you that it didn't hurt.   I always use every tool available to increase my odds.  
Cloud9 is not the biggest deer I have ever shot but he is an impressive mature deer.   Most important, I enjoyed celebrating with a group of partners on this lease because this team of hunters came together, created a plan, and working our tails off to make it happen.
What a great experience to share with my family and friends as I pulled into the house around 10:30 PM that night.   Knowing my kids were staying up late on a school night to see him.   Getting those high fives, hugs, and phone calls from family and friends will be the memories I cherish with this story of Cloud9.   Indiana opening day 2017.
#I AM REAL WORLD