The recent cold spell has most people anxiously waiting for spring but there is a certain group of deer hunters who planned ahead and are now enjoying this Arctic blast. Any deer hunter who follows social media at all has seen a trend that has so clearly revealed itself during this recent brutal cold spell. Big bucks have been falling to those persistent hunters who didn't hang up their gear after the rut but instead pulled out their warmest clothing and hit the woods.
I have said for many years that the very best time to kill a specific big buck or to kill big bucks consistently is in the late season when brutal cold conditions forces even the most nocturnal and hard-to-pattern bucks to get on their feet and feed during daylight hours. The reason I believe this is because at this time and under these conditions an astute hunter knows exactly where a buck is coming to and when he will be there; he will be coming to food every afternoon. It is as sure a bet as anything in deer hunting.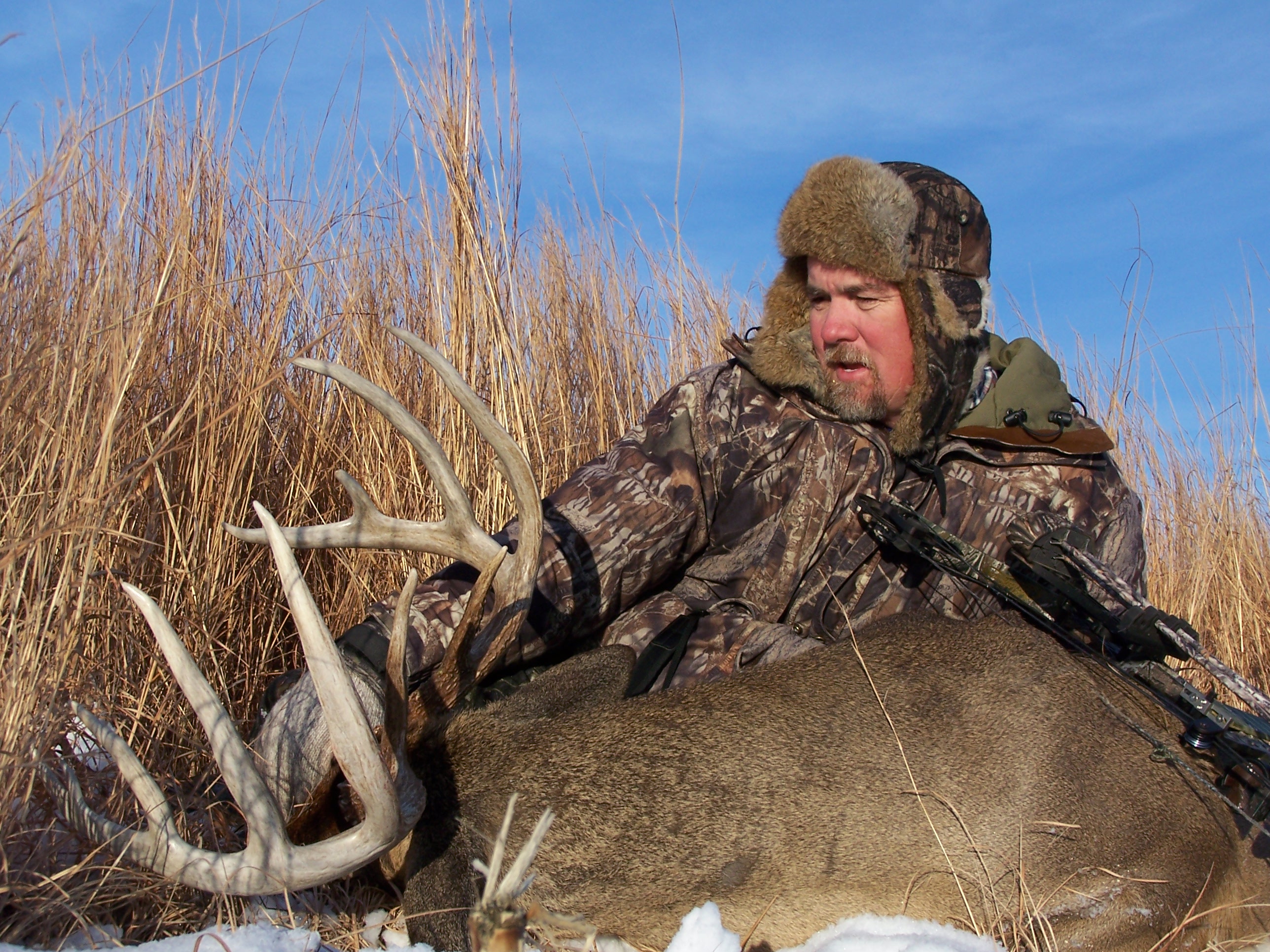 During a brutal cold-spell back in 2010 I shot this 170-class buck near a soybean plot. I had been after the buck all season but he was primarily nocturnal. That all changed when the temperatures dropped below zero. The day I shot him was the third day in a row I saw him in or near the soybean plot in daylight.
The brutal cold that started around Christmas and has continued for 2 full weeks started a steady barrage of photos of successful hunters with their late-season trophy bucks. The vast majority of these successful hunters revealed that their bucks were either in a soybean plot or very close to one when shot. I can even take it a step further and note that I did not see a single mention of "forage soybeans" accompanying any of these recent photos.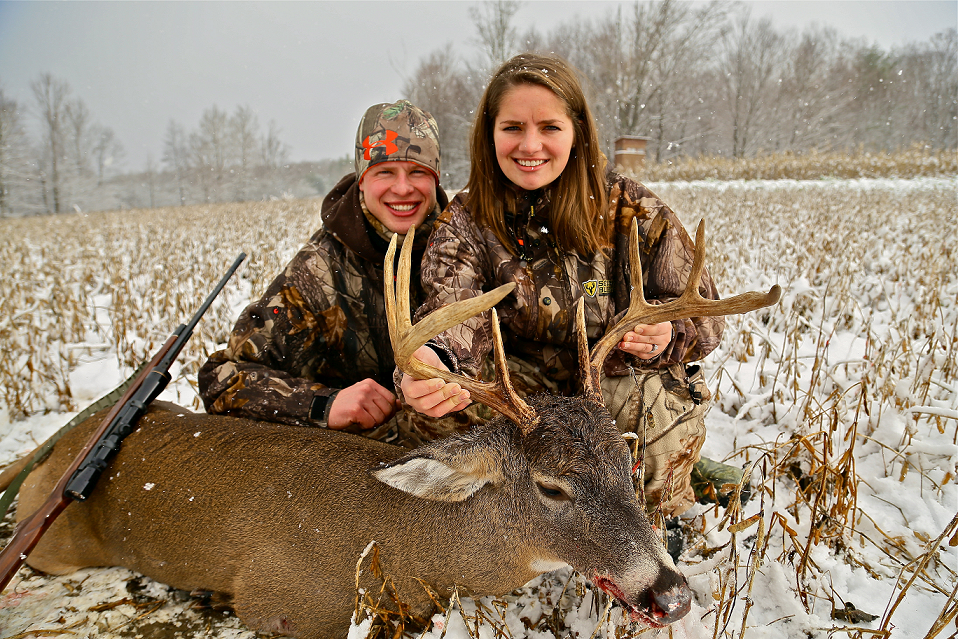 These Real World soybean customers from New York are part of a growing list of deer hunters who have realized just how well this product draws in deer when brutal cold weather hits.

Forage soybeans may have their place in the Deep South but any serious deer hunter that is giving up sacred food-plot acreage for them north of the Mason-Dixon Line is simply missing the boat. All of the deer killed in Real World soybeans over the past couple of weeks have proven that Real World soybeans are hands-down the best soybean to plant in whitetail food plots. Think about it, did you see any recent photos of bucks killed in forage soybeans? Why would you plant a soybean that may work in the early season but does nothing after the first frost? Real World soybeans have been proven to attract giant bucks for the entire season.
So what makes Real World soybeans better than forage soybeans or traditional "ag soybeans"? Well here are 5 good reasons –
1 – Real World soybeans are the result of decades of side-by-side testing in numerous states to find those varieties with the very best shatter resistance. Real World soybeans will still be in the pods where deer can easily consume them when they need them the most. Real World president Kevin Boyer recently noted that to this point nearly 300 different soybean varieties have been tested to come up with the ones in Real Worlds soybean blend.
2- Real World soybeans are a blend so there are actually 4 different soybeans in each bag. These 4 varieties mature at different times so during the first weeks of archery season your plot will have some soybean plants that are still green and offering browse while other plants will be dried down and offering grain.
This photo shows the different varieties of soybeans in Real Worlds soybean blend at different stages of maturity; some are mature, others are yellow and some are still green.
3- Real World soybeans have higher grain yield. Anyone who has done a side-by-side trial knows that there really is no comparison in the sheer volume of soybean produced by Real World soybeans versus forage soybeans and even many varieties of ag soybeans.
4- Real World soybeans are more attractive to deer due to their high-oil content. In 2017 Real World introduced its new "Generation-2" soybean blend which contains higher oil soybeans that are not only more attractive to deer but also contain higher levels of important nutrients for better health and production.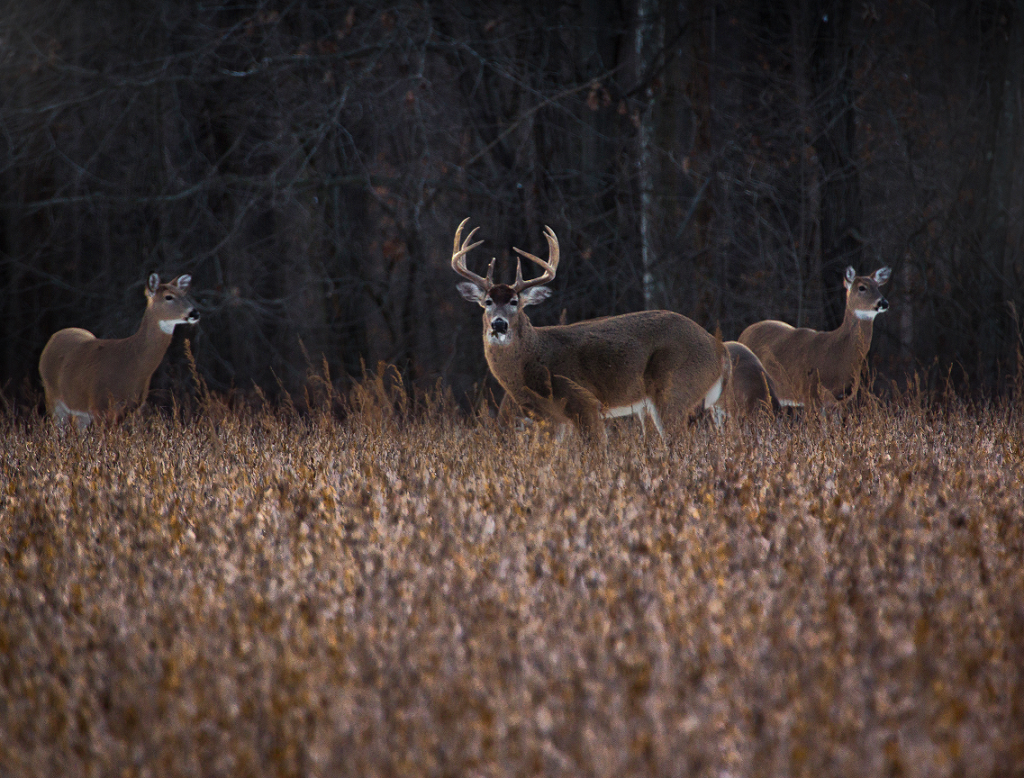 If you plant forage soybeans in your food-plots you wont see this after the first frost. Real World soybeans are the only all-season soybean.
5- Real World soybeans have a proven track record. Think about this; 2018 marks Real Worlds 10th year in business. During the first 9 years that Real World Wildlife Products have been in business, sales of Real World soybeans have at least doubled each year from the previous year's sales. Whether a product works or does not work, word will spread and the product will either become well-accepted or it will fail. Real World soybeans have clearly proven to work better than any other soybean and with each passing year more and more open-minded deer hunters plant them.
When it comes to the very best food-plot a hunter can plant for harvesting big mature bucks, nothing compares to the proven track record of Real World soybeans. Nothing. Other products like clovers and brassicas certainly have their place in a complete food-plot system but no other single plant can offer the high-quality nutrition and drawing power of a Real World soybean plot and do so over a longer window of time. If I could only plant one food-plot on my property the choice would be very easy; it would be Real World soybeans. Dead bucks don't lie.
To learn more about Real World soybeans – https://www.realworldwildlifeproducts.com/product/soybeans/